Deal with it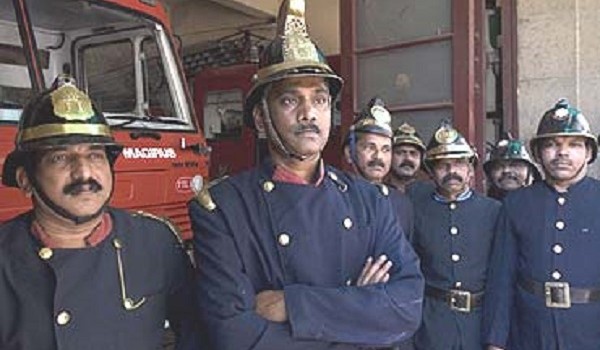 Published on July 21st, 2014
0
In the line of fire
There is no glory in death caused by negligence. A young firefighter's death raises many questions about the profession and its hazards.
by Mamta D | @silverlightgal on Twitter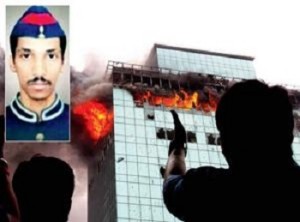 On July 18, 2014, Nitin Ivalekar (inset, on left), a brave Mumbai firefighter, died after being trapped in the burning building of Lotus Business Park. The top floors of the building, a 22-storey commercial establishment in suburban Andheri, caught fire at around 11 am.
More than a dozen firefighters were sent in for the rescue operation, Nitin Ivalekar among them. Unfortunately, for him, the rescue operation turned fatal as he became one of the casualties instead of one of the survivors.
Nitin belonged to the Borivali Unit of the Mumbai Fire Brigade and was among the first group which responded to the fire call. Five others who were part of the group of firefighters participating in the rescue operations on Friday are said to be badly injured. This incident brings to light the precariousness of firefighter's lives and the inadequateness of fire safety measures in India.
A few good men (or women)
In India, where society has always urged youngsters to pick 'safe' jobs like engineers, doctors, architects, and so on, there are hardly any takers for firefighter jobs. Someone once said, "All men are created equal, then a few become firemen". The brave young men (and women) who opt for this hazardous and risk-filled profession belong to that 'indispensable yet invisible' category of people whom we take for granted. A fire in some building? Call the firemen. Fire doused? Call them heroes and pay them rich tributes – and then forget all about them. The firemen go back into the shadows, waiting there 24×7, until the next firefighting operation starts.
Firefighting as a profession
Signing up to be a fireman is not merely a matter of building up a steely resolve or determination. You must possess the requisite qualifications and fitness too. Typically, there are two entry levels — Fireman and Assistant Station Officer and from there on, you can become a Fire Officer-In Charge, Fire Officer, Sub Fire Officer, and so on. The minimum qualification you need in order to be a fireman is, passing Class VII. To apply for an Assistant Station Officer, however, you must be a science graduate, with chemistry as your principal subject. This is because your task may involve handling chemicals or may need good subject knowledge of chemicals.
You also have to go through rigorous physical tests and procedures if applying for the position of firemen or ASO.
Tracing history
It was around 1477 that the earliest incidents of fire protection in erstwhile Bombay began to be noticed. Back then, there were no motorised engines. Men would operate makeshift carts and horse drawn carriages to put out fires. Only centuries later, the Bombay Fire brigade officially began as a part-time police function. In 1865, the Bombay Fire Brigade came under the joint control of the Government and the Municipality. A formal Bombay Municipal Corporation Act was put into place in 1888 and since then, fire safety and fire control measures became the responsibility of the Corporation. It was only around in 1907 that the first motorised fire engine was commissioned in Bombay.
Current scenario
The firefighting services in India are still not well-organised or well-equipped. Many State-level fire departments lack specialised firefighting appliances. The communication systems used by the fire departments are often archaic. Also, lack of adhering to fire safety norms by builders and proprietors of high rises leads to incidents of fire which could have been easily avoided. Besides these, it is the citizens' onus too. Do we as citizens keep ourselves informed about fire safety measures? Do we take simple yet necessary precautions to prevent fires on a daily basis?
A number of corporate establishments are nowadays conducting fire drills and mock firefighting exercises to educate their employees. Such initiatives are needed in housing societies too. Any person using cooking gas cylinders on a regular basis must be aware of the dos and don'ts of using them and must be aware of precautions and disaster control measures. Likewise, people using inflammable items should be alert and cautious.
If every citizen were more alert, prevented fires, or took appropriate controlling measures in case of fires, the loss to life and property would be minimal.
As it happens, today, we take the department of fire services for granted. Lest we forget, these men who risk their life and limb for us are family men, too. Some, like Nitin Ivalekar, leave behind a very young wife and little kids. Others leave behind aging parents, who were probably dependent on his income.
A little caution on our part can go a long way in preventing fires and avoiding casualties.
(Pictures courtesy www.mumbaimirror.com, outlookindia.com)