Deal with it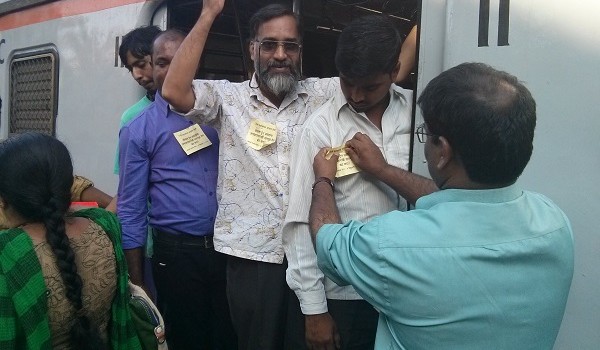 Published on February 8th, 2014
2
Commuter groups demand better travel for Mumbaikars
Two organisations based in Mumbai observed Commuters Protest Day against the Railways' apathy towards Mumbai commuters' woes and long-standing demands.
by Nidhi Qazi
Yesterday, a young boy in his 20s fell on the space between up and down tracks at Chembur station, from a CST-bound train on Harbour Line after hitting an electricity pole. He was then rushed to Sion Hospital.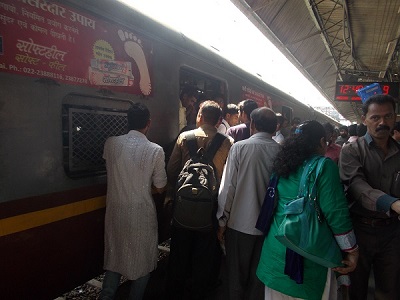 Why did he fall? "Because he was standing on the footboard, teasing passengers on the platforms and did not see the pole and thus got hit by it," said a constable at Chembur station. He further added, "In the 10 months that I have been stationed here, I have constantly been hearing about such incidents. On an average, two to four people die like this every week. Most of these people are young, between 16 to 25 years of age. And they hail from three main areas – Mankhurd, Govandi and Kurla. The young boys from these areas are famous for their antics."
The fact that a lot of young people can be spotted doing antics on the moving train or atop it may be worrisome, but it is equally important to see beyond the issue and question why they do it. Is it something they do just for fun or really, is it because they have no space inside the compartments, and are forced to stand (or rather hang) by the footboard?
Yesterday's incident may not be a new occurrence by any means, but it was still significant as it happened on a day that was being observed as Commuters' Protest Day – an initiative of the Democratic Youth Federation of India (DYFI) and Pravaas Adhikar Andolan Samiti (PAAS) covering 111 suburban stations in Mumbai's Western, Central and Harbour lines.
As Preethy Sekhar, Maharashtra Secretary of DYFI put it, "We stationed our volunteers at various stations on all the three lines who distributed badges to the commuters. These badges are a symbol of protest against the ill conditions commuters face daily. Peak-hour trains are overcrowded three or four times the carrying capacity. Passengers fall off from running trains and fall on the tracks while trying to board. Death and loss of limbs have become daily occurrences."
The two organisations laid out a list of demands: 
– Increase the number of services on war-footing in all the suburban routes. Procure new rakes for giving relief to commuters.
– All local trains on Western, Central, Harbour and Thane-Vashi routes must have 15 coaches.
– All platforms at all stations must be extended to suit 15 coach trains.
– Start suburban train services (EMU) in Dahanu Road-Vasai-Diva-Panvel route.
– Stop the practice of late-running of trains. Resolve problems in signalling system and deploy sufficient number of running staff.
– Bring about comprehensive commuter safety measures.
– Conduct survey of platform heights urgently at all stations and make adjustments wherever necessary.
– Avoid the danger of stampedes; build adequate number of foot over bridges and subways.
– Provide 24 hours ambulance service at all railway stations.
– Conduct safety audits of all railway stations and adopt accident prevention measures.
– Provide necessary passenger amenities at all railways stations.
– Ensure women's safety in local trains. All ladies coaches must remain reserved for all 24 hours.
– Police personnel must be deployed in ladies coaches without fail.
– Railway board must conduct an immediate assessment of all projects for Mumbai suburban sector and implement all proposals on war-footing.
The organisations will follow up with the Railways on these demands.
(Pictures courtesy Nidhi Qazi and Sadiq Basha)