Bombay, bas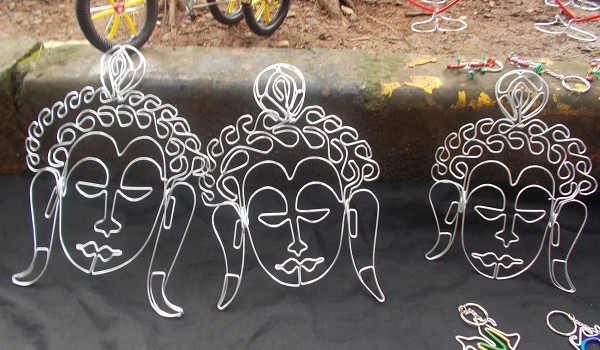 Published on August 15th, 2013
1
Eat, play, love and sex
Fort offers good options for eating, street art and buying sexual implements, which come in both plastic and rubber variants.
by Nidhi Qazi
I was at Fort over the weekend, just taking in the sights. Exploring the city is something I enjoy in my spare time, and my afternoon was a highly educational one. I ate at Irani cafes, strolled the archways at MG Road and had an awkward, dildo-related conversation, and finally landed at Kala Ghoda, where I got arty with some street artists.
EAT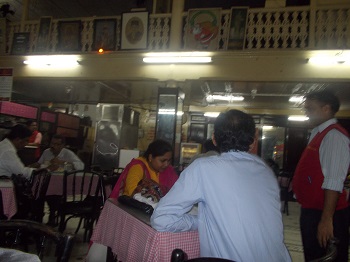 Old furniture. Old pictures. Simple decor. Cheap food. History couldn't get better. Yes, history I say. The number of famous and not-so-famous Irani cafes in the city are live archives of the city's past and present. They stand out among their swanky contemporaries in all aspects, be it the choice of food, the decor or the experience. On a weekend, what better than a cup of Irani chai, bun maska and the home-like custard?
I started my food walk with Kyani & Co., where I enjoyed their bun maskas, a range of omlettes, burgers, cakes and custard. According to the co-owner, Farokh Shokri, "The old-world charm of this place is what people admire and they come here for the experience. It reminds them of the past. And since nostalgia can't be captured in a photograph, we maintain it the way it has always been, since 1940." He adds, "Even if we had to refurbish this place, we'll have to then increase the pricing, which we don't want. We earn honest profits by catering to the masses and we don't want to lose them."
Point noted. I then moved on to Yazdani Bakery, which is famous for its brun maska, khaari, coffee, chai and apple pie. Again, this is the place to be when you want to devour freshly baked breads, puddings and pavs. And don't forget to wish the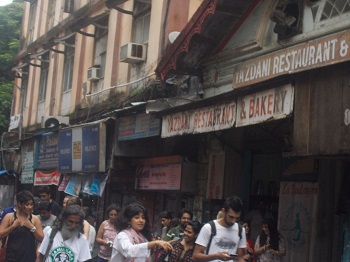 owner. He's an adorable oldie. Just chat him up and get a few insights into the history of India, Parsis, current politics, and other items of interest.
Still looking for more eats in the area? Go to Sassanian Boulangerie. Their famous dishes are chicken dhansak, chicken sali boti and raspberry drink.
PLAY
There are stars and there are stars. Likewise, there are artists and there are artists. On the street outside Jehangir Art Gallery is a world of these artists, uncelebrated but highly talented. They lag behind their most established brothers when it comes to showcasing their work, but thanks to Kala Ghoda Association and the popularity of street art, Mumbai has its own street art outside the Gallery. Chatting up to a few of them reveals some stories.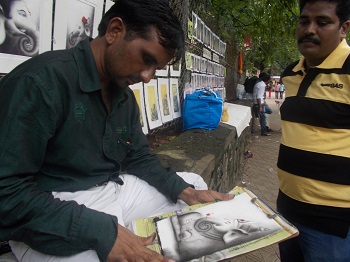 Artist Dhammpal Gyanrao Kiradak (in pic on left), a resident of Kalyan, originally from Akola district, rues the lack of visibility artists like him suffer from, thanks to bigger artists. "The selection body of Jehangir Art Gallery selects an artist based on the market value. We may not have the market value, but we are no less when it comes to talent," he declares. Showing his work of art, he adds, "Art festivals don't exhibit the real art work. It is plain show, wherein the rich get their way. We are poor. Humein koi kuch samajhta nahi (Nobody gives us our due)."
But he is thankful that artists like him have the entire street to showcase their work, at the very least. The artists mostly present their work on the stands (except for the monsoon season) provided by the Kala Ghoda Association, which charges Rs 100 a day for the using the same. Kiradak's paintings are priced at a minimum of Rs 500 and go up to Rs 10,000.
Further down, I browsed the work of artist Swaroop Kaintura, and immediately spotted its novelty. He does 'Ticket art', which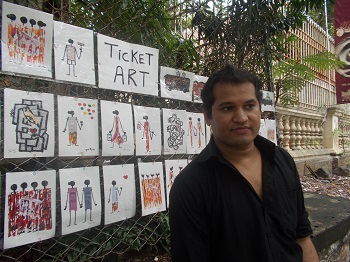 incorporates used tickets of buses and trains in his work and builds a story around them.  "It is my creation and I feel happy doing it. It makes people happy, too," he says. Take a close look at his work and you'll realise the beauty of this amalgamation of drab-looking tickets and the bright colours, which tell their own little stories. Each of his creations is priced at Rs 500.
Another interesting artist here is Munna wirewallah, who is a unique talentwallah! His talent lies in his ability to twist a single wire into anything – from a simple key chain, Buddha's face, to 3D objects like bicycles, bikes, flower vases and puzzles etc. (see pic below). Behind the popular name, Munna is sexagenarian Harish Kumar Bhanusha, hailing from Gujarat, who came to Mumbai to earn.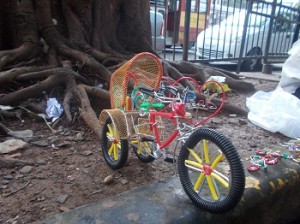 Having been on the pavement since 1972, Munna started playing with wires and made random objects till he realised it was actually fetching him money. He then shifted from junk wires to better finished ones and started making new things. His creations were bought by 'Lataji, Raj Kapoor and others,' he says. In fact, he adds, Ashaji had also ordered some stuff from him, but as time passed she never visited again, because "Woh toh ameer ban gayi aur hum gareeb reh gaye (She became rich while I remained poor)." His pieces are priced from Rs 20 to Rs 700.
LOVE and SEX 
In one of the lanes around Fort is a busy lane, turning left to the Mahatma Gandhi Road. This lane is an open one (figuratively) for it showcases the hidden and the hush-hush – the vibrator. For those uninitiated, a vibrator is a sex toy and resembles a phallus (see pic below). This entire lane has a lot of shops selling them. As for my conversation with a vibrator-seller, here's how it went:
Me (after pretending to be interested in umbrellas and hair dryers) : Bhaiyya, yeh kya hai?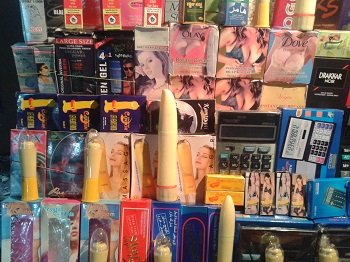 Vendor: Madam, yeh vibrator hai.
Me (pretending to be really innocent): Iska kya use hai?
Vendor: Yeh sex ke liye use hota hai. Chahiye? 300 rupees ka hai.
Me : Nahin bhaiyya, thanks.
Vendor: Le lijiye, bahut kaam ki cheez hai. Aap ko 250 mein de denge. Yeh achcha nahi laga toh rubber ka bhi hai.
I run.
Bombay, bas is a weekly column on getting around the madness of Mumbai and exploring the city with a fresh perspective. 
(Pictures courtesy Nidhi Qazi)