Bombay, bas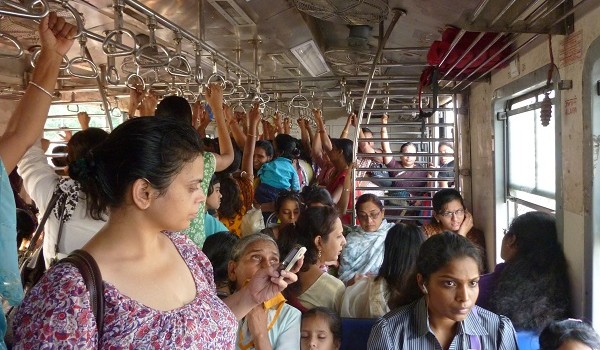 Published on July 17th, 2013
4
A window to life in Mumbai
Mumbai locals are the creature that teach you several life lessons – all you have to do is play along.
by Reshma Doshi
First of all, a big 'thank you' to the British Raj – for giving Mumbai its 'lifeline of commuting', the Railways. Nobody's a real 'Mumbaikar' if they have not travelled in the local trains and come home smiling or sometimes, frowning.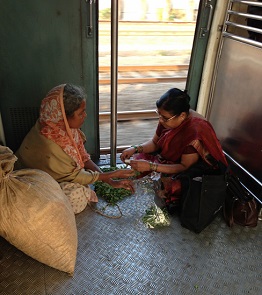 No transportation connects Mumbai as well as the Railways do. Some Mumbaikars literally live in these trains.
When I used to travel to college and then to work, using the Mumbai local, I would never trade my train ride for a free car ride.
It sometimes frustrates you, but at the same time the train ride also gets a smile on your face. To know what I mean, one needs to sit at Churchgate station or Borivali station or VT or Virar and observe people. Here, people become marathon runners; they don't want to miss that 9.25 local. It's a matter of life and death to miss a train – even if the next train arrives in just 4 minutes.
If you are a newcomer, the crowd will probably make you feel claustrophobic, but if you are a regular, it will make you feel everything is fine. Remember, a lack of crowd at Mumbai's railway stations indicates either a public holiday or that something is amiss.
Local trains in Mumbai are the best place to learn life's lessons. The train teaches you how to fight your own battles and make a place for yourself in the crowd, it teaches you how to make friends with people, strangers mostly, and adjust with all species of people – something we humans need the most for survival. It teaches you how to handle a dominating mother-in-law, how to love your naïve daughter-in-law, how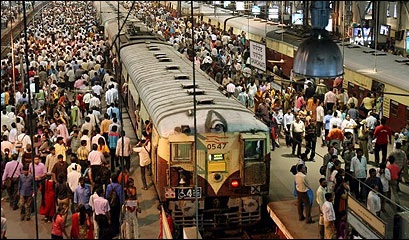 to cook, how to bargain, the inside and out of share markets, gold prices, and many many more things – and of course, it teaches you how to sing in front of strangers. The cost for all this is simple – bear the push and punches in the local trains, overcome claustrophobia in crowded places, get used to the crowd and noise around you and be ready to share, care and listen.
– If one wants to experience the thrill of Mumbai locals, one should travel between 9 am to 11 am from the North to South direction on the Western line, the best route being Andheri to Churchgate. Or try between 5 pm to 8pm from South to North on the Western line. Just get in, check for all limbs present, and enjoy the ride.
– But if you are a newcomer and want to travel by the local train with some time to spare, the best time to travel in any direction is between 11 am to 5 pm.
– The best way to secure seating space for yourself would be take a return jounery from the station before the train gets full in seconds. So if you want to get into the Borivali-Churchgate train in peak hours, you should board a Borivali-bound train from Kandivali or Malad, which will halt for a while in Borivali and then head back to Churchgate. But don't think you are a smart cookie with the greatest idea in the world, half of Mumbai does this to get a seat.
In these local trains, you see the real face of Mumbai. It tells you about the kind of people Mumbai is made of. One could be a stern boss in the office, but he is a friendly person in the train. The nice woman who is always ready with a smile for a stranger could be a strict, dominating person at home. You get to see nice, caring, and friendly people – always ready to help and you also see scary, bitchy, frustrated people – who always want to pick fights.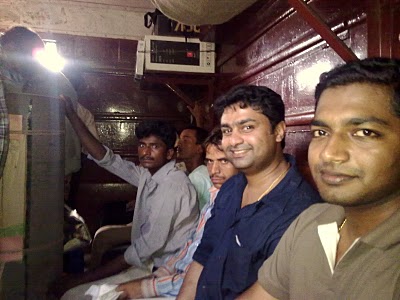 Here people make friends out of unknown people, share their life's sorrows, and throw parties when they achieve something. People make these small train compartments and the people inside them their extended families, a part of their lives. Those 45 minutes to two hours of travel time become their welcome break from the hectic lives they lead. Movies and TV serials have been made on Mumbai locals. Very soon there would be a time, when Mumbai tourism will include a ride in a local train.
Hence it becomes a matter of life and death when people miss their regular 9.25 ki local. The Mumbai local teaches us Mumbaikars how to survive. Which is why I said earlier. Thank you to the British Raj for giving Mumbai its 'lifeline of commuting' – the Railway.
Reshma Doshi is a freelance consultant by profession and a writer by choice.
(Pictures courtesy blog.zanilhyder.info, benjamuna.com, wovensouls.wordpress.com. Images are used for representational purpose only)