Big story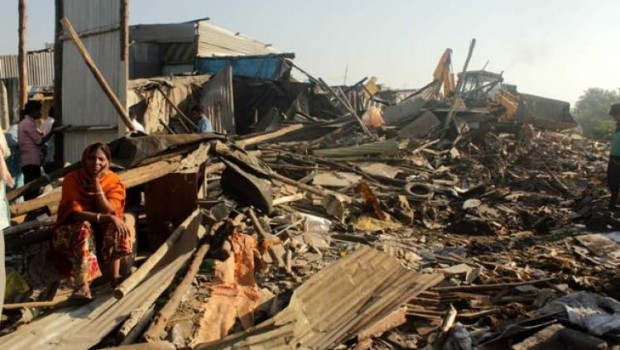 Published on June 10th, 2013
0
Thousands lose their homes while the rain pours down
Several hutments were demolished recently at different spots in Mumbai. Where will these people go while rains lash the city?
by The Editors | editor@themetrognome.in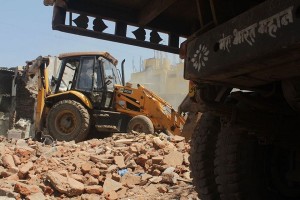 The monsoons have set in Mumbai and Maharashtra in earnest, at least three days before expected time of arrival. And while the monsoon brings its usual problems for the average Mumbaikar – water-logged roads, floating garbage, leakages in walls and erratic trains, for some Mumbaikars, this monsoon is going to test their survival skills.
On June 4, 2013, some slums in Mumbai were witness to demolitions via bulldozers and they also suffered their share of police brutality as they tried to save their homes. "Bulldozers mowed down houses at Ganpat Patil Nagar, Sanjay Nagar, Indira Nagar and Adarsh Nagar. Around 250 houses were demolished at Ganpat Patil Nagar and more than 300 houses were broken down at Adarsh Nagar-Indira Nagar and Sanjay Nagar," said an activist attached with the Medha Patkar-led National Alliance of People's Movements (NAPM).
"As always, the police force was present in huge numbers and disrespectful to the protestors that included men, women, children and the aged. Even the pregnant ladies were not excused of high handedness. With the onset of the monsoon, these people's vulnerability is increased as they have no roof over their heads and their belongings either crushed or lying here and there," he added.
NAPM alleges that the demolition drive at Ganpat Patil Nagar was done under the pretext of 'protecting mangroves' as per the orders of the Bombay High Court, "which not at all had said anything about demolishing slums. The over enthusiasm shown by the local MLA of Shiv Sena – Vinod Ghosalkar – in demolishing this slum and evicting the families from the land exposes the nexus with the land mafia which wants to transform this locality into high rise buildings and towers. Even the Forest Department has informed that they do not want for demolition of slums but only protection of mangroves."
At Indira Nagar, Adarsh Nagar and Sanjay Nagar, the demolitions were done to widen a nallah (sewerage line) in time for the rains; demolitions were carried out at the same spots last year for the same reason. Activist Siraj Ahmed, who was detained by the police for protesting the demolition, said that the nallah was never widened despite repeated demolitions.
"Most shocking and deplorable is the fact that in January this year, no less than the Chief Minister of Maharashtra and the Chief Secretary had promised to under take a survey of the these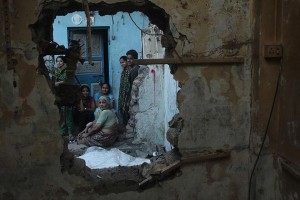 settlements for the purpose of declaring them as slums and provisioning of basic amenities," an NAPM release says. "Instead of water pipe lines and toilet blocks, they have sent bulldozers and police force. It seems that the slogan of 'slum free India' is to be realised by bulldozing the existing slums and not be upgrading or resettling them."
(Pictures courtesy tehelka.com, khareastandolan.wordpress.com. Pictures are file images)