Big story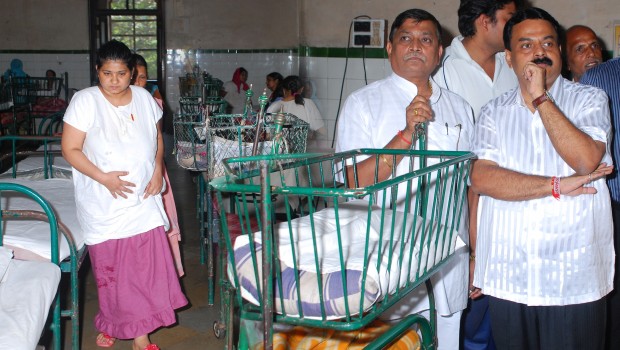 Published on October 28th, 2012
0
The Mayor's not happy with Wadia Hospital
After an infant was stolen from Nowrosjee Wadia Hospital, the Mayor says the BMC might reconsider the hospital's lease conditions.
by The Editors | editor@themetrognome.in
It's been five days since Jasmine Naik's day-old son was stolen from the Parel-based Nowrosjee Wadia Maternity Hospital, allegedly by a woman who had been hovering near the ward for two whole days before she made away with the baby, but there has been no breakthrough in the case. While the distraught mother has refused to vacate her bed till her son is found, the hospital received a sharp rebuke from the city's Mayor, Sunil Prabhu.
Prabhu, who visited the hospital on Saturday to meet with Jasmine and her family, spoke with the media after the meeting and said, "The Brihanmumbai Municipal Corporation (BMC) has leased out the plot of land on which the Hospital stands, subject to certain rules and conditions. However, the Hospital has repeatedly gone back on these, and if this continues, the BMC will be forced to rethink about the land that has been given to the Hospital."
The BMC and The Wadia Trust jointly run the maternity hospital and the Bai Jerbai Wadia Children's Hospital since the year 1928, but in recent times, the two have been locked in a bitter dispute over allocation of funds for the repairs of the Children's Hospital. The building has been closed for repairs after being certified unsafe. It was built over 80 years ago.
The Mayor added, "Time and time again, the BMC has asked the Trust to install an adequate number of CCTV cameras all over the premises, but they have not installed a single device till date. Every year, the BMC grants a certain amount to the Hospital's trustees for the smooth running of the hospital. But what we find is very different.
On the pretext of repairs, the Hospital management has kept a large part of the premises closed for a long time now. Residents and patients have often complained of the space constraint here. Besides, the Hospital is not providing the best medical care and services to patients. We (BMC) have often asked them to employ more security guards, but there are only four men guarding the entire premises. It is unfortunate that a little child was stolen so easily from a packed ward, all due to negligence on the part of the Hospital."
How should civic and government hospitals step up security to prevent infants being stolen? Send us your ideas to editor@themetrognome and we will take them to Mayor Sunil Prabhu on your behalf.