Big story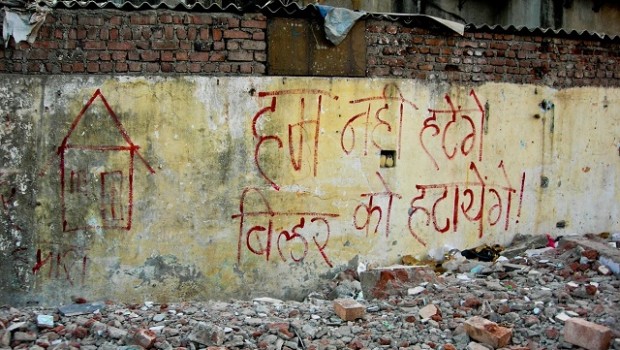 Published on April 8th, 2013
0
Golibar agitation hots up
Activist Medha Patkar goes on indefinite hunger strike, while affected citizens demand urgent action from the State Government and MHADA.
It happens all the time, but in a city teeming with millions, news of the poor losing their homes always slips through the cracks.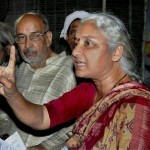 Inaction and lack of media coverage notwithstanding, the people of Golibar Maidan are up in arms against the Government and the builder lobby to protest against the demolition of their homes. They allege that the demolitions are illegal, and are knocking on the doors of the Government for justice." Agitated at the lack of response by the State, activist Medha Patkar started an indefinite hunger strike four days ago, while hundreds ghearoed the office of the Slum Rehabilitation Authority yesterday and demanded a joint interaction with the Chief Secretary, Principal Secretary (Housing), Joint Commissioner of Police, CEO of SRA, Chairman of MHADA, Additional Collector and other concerned officials," said an activist. He added that "hundreds of urban poor from various bastis are constantly joining the agitation."
The agitation has been launched also to protest the "injustices and atrocities being meted out in the name of 'slum rehabilitation', the anger against the ruling establishment that is hand-in-glove with the profit mongering builders."
The agitation, which triggered off due to the demolition of 48 houses at Golibar and also many houses at Chandivali, "reflects the sentiments of thousands of poor across the city, who clean, run and build Mumbai, but still have to wage a war for their basic right to shelter, food, education and other civic amenities." The National Alliance of People's Movements (NAPM), which is spearheading the agitation, alleges that not just at Golibar, corruption to the tune of hundreds of crores is rampant across Mumbai in various projects in the garb of 'slum rehabilitation'. "Land and resource grab is the only motive with which the builders operate, aided actively by the State machinery. The demolitions at Golibar, despite the ongoing inquiry against Shivalik Ventures (which is set to undertake the Golibar SRA project) only goes on to prove the high-handedness of the builder lobby in the state," Patkar said yesterday.
(Pictures courtesy thealternative.in, thehindu.com)