Listen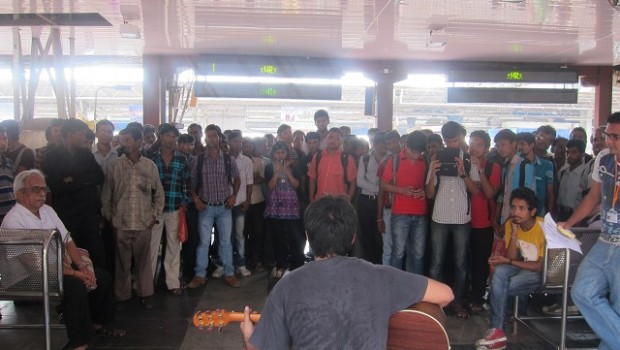 Published on April 12th, 2013
0
Where music comes to the people
National Streets for Performing Arts (NSPA), after entertaining commuters on Western Railway, wants to spread the cheer at other Mumbai spots.
by Medha Kulkarni
June 27, 2012 was an interesting day at Churchgate station. In the midst of this busy railway station, a group of musicians assembled for their first-ever performance. It was a small performance involving two buskers, Jishnu Guha from UK and Sureshji, an Uttarachali folk singer, (both talented vocalists) and within minutes, a crowd had gathered to hear them.
This group was the National Streets for Performing Arts (NSPA) at work. The NSPA was born last year out of the idea to take the performing arts to the people by reclaiming public spaces for street performances. By its own admission, the NSPA seeks to champion public spaces as an alternative platform for performance, encouraging greater interaction between artists and the community, creating spaces of cultural interaction and energising the very city and its people. It aims to support the livelihoods of less privileged and independent performers across diverse genres.
A big factor in starting the NSPA? "To rekindle an atmosphere of street performances in urban India (starting with Mumbai) that aims to bring some joy to the lives of millions as they go about their daily commute," says founder Ajit Dayal,52, best known as the founder of Equitymaster, Personal FN and Quantum Mutual Fund, when asked about the inspiration behind this unique initiative. Recalling his childhood days of watching street performers in Mumbai city and noting how street performers continue to brighten the lives of residents of cities like London and Paris, Ajit says he wanted to "recreate that in an organised fashion in Mumbai."
Following their debut performance at Churchgate station, the NSPA launched full time performances on October 8, 2012, with music performances at Churchgate station on Mondays, Borivli station on Wednesdays and Bandra station on Fridays from 9 am to 11am and 5 pm to 8 pm. NSPA chooses its locations with care, ensuring that the site would be frequented by large numbers of people but in a spot that doesn't cause any trouble or inconvenience to commuters.
With a small team of eight members, each a passionate lover of art and performance, NSPA manages to pull off successful events each time and the response from the general public only acts as good encouragement. "The response has been encouraging, proving to both us and the artists that the city of Mumbai is receptive and open to an initiative such as this. We hope to continue the performances at the railway stations and soon expand to parks, gardens and bandstands in the city and across the country, thus weaving art into the very fabric of the city and making performances as regular an occurrence as the trains , the buses and the commuters," says Shrishti Iyer, Performance Co-ordinator at NSPA.
Apart from the regular performances at Western Railway stations, the NSPA has been collaborating with major art festivals in the city like the Indikaleido Festival, Kala Ghoda Arts Festival, the BMW-Guggenheim Lab etc.
Encouraged by their initial success, the NSPA is now seeking to expand to Central railway Stations, Horniman Circle Gardens and bandstands across the city, apart from other public spaces.
If you want to keep track of their performance so you can catch the next one, all you have to do is 'like' their Facebook page at www.facebook.com/nspa.streets for regular updates and notifications.