Film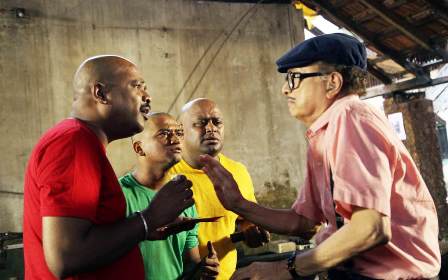 Published on July 13th, 2015
0
Review: Murder Mestri
An intriguing plot is somewhat waylaid by its lazy treatment, but is saved by its stellar performances and crisp dialogues.
Rating: 3 out of 5
Murder Mestri, directed by Rahul Jadhav, is the story of Prabhakar (Hrishikesh Joshi) who works as a postman in Malgaon and has a strange habit of reading other people's letters.
Prabhakar is close to his lovable daughter Pari, whom he tells bedtime stories. One day, the villagers find that Prabhakar has been hiding many of their letters for a while (to read at his leisure) and they beat and abuse him in front of the other villagers, including his wife and daughter. Pari believes that her father is a superhero and wants him to do something great that would make her proud.
He decides to stop reading people's letters; however he can't resist and soon opens another letter which says that someone named Madhav Mestri in Sawantwadi will be killed by his wife. Encouraged by Pari, Prabhakar makes his journey to Sawantwadi to find and save this Mestri; however on reaching his destination, he discovers that there are three people with the name Madhav Mestri.
One Madhav Mestri (Vikas Kadam) is recently married to Hemlata (Manasi Naik) and he is planning his honeymoon. The second Madhav Mestri (Sanjay Khapre) is the sarpanch of the village and his better half Saraswati (Kranti Redkar) while the third, Madhav Mestri (Dilip Prabhavalkar) is a doctor and Malini (Vandana Gupte) is his wife. Prabhakar writes and delivers letter to all the three Mestris, so that one of the Mestris whose life is in threat can be saved. The moment the letters are read by the three Madhav Mestris, it leads to chaos in the married lives of the three couples.
The plot is interesting but its treatment is passable, however the performances by Dilip Prabhavalkar, Hrishikesh Joshi, Kranti Redkar and Vandana Gupte take this film up several notches. Their comic timing is impeccable and the lines they speak are crisp, so if you're looking for a good laugh riot, you could try this film out.
(Picture courtesy marathistars.com)