Film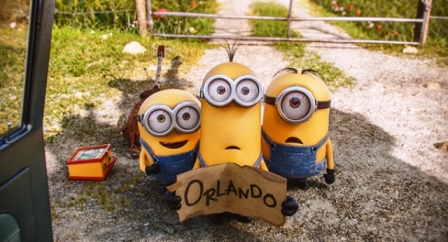 Published on July 11th, 2015
0
Review: Minions
They are out to find the most despicable master of all time. But are they good enough henchmen of their era?
by Ritika Bhandari Parekh
Rating – 3 out of 5
The dungarees-wearing, goggle-eyed and pill-shaped creatures called the Minions are back. And this time, they help us trace their origins.
Right from losing the T-Rex as their master to wiping the Egyptian civilisation, their only purpose is to serve the 'biggest and baddest' master. With visits to the Dracula and the Yeti, the villainous humour is at times 'so much fun, that it is a crime!' But the Minions' foolhardy antics bring about the downfall of the tyrants.
Faced with depression and no master, Kevin – a brave Minion – has a plan. Unwittingly, Minion Stuart and enthusiastically, Minion Bob join his mission to save their race. Their journey takes them to the land of Scarlet Overkill (voiced by Sandra Bullock), who is the coolest villain ever. They help her in a heist to steal the crown of Queen Elizabeth. And what follows, brings the tiny Minions to their ultimate master Gru.
Directed by Pierre Coffin and Kyle Balda, the movie has quite a few 'aawww' moments – especially when the Minions (voiced by Pierre Coffin) speak and sing in their gibberish language. The plot takes us on a rendezvous from New York to London. It also has stereotypes (like how the English love their tea), the regular villain convention and a long climax to take it forward. With the story completely resting on the Minions, it tends to become a bit predictable. The gags and slapstick humour will keep you glued, but the story should have risen above with a bit of intellect.
Bullock's Scarlet is rightly named Overkill, as her evil intentions border on plain madness. She does a fine job of being the badass villain. Writer Brian Lynch has the pulse of the kids, but the adults will be left asking for more. This 91-minute animated comedy of errors makes for an average prequel to the stunning Despicable Me series. It is a one-time watch and a must watch if you are fans of the Minion army. So get ready to be squished by cuteness.
(Picture courtesy pop-verse.com.)