Film
Published on February 26th, 2013
0
'People can protest, but State cannot pander to them'
This, and other illuminating thoughts from film personalities, at a talk on 100 years of Indian cinema at St Xavier's.
by Vrushali Lad | vrushali@themetrognome.in
Cinema, especially Indian cinema, is increasingly being derided for being the opium of the masses – something which it is praised for, in equal measure, but in the light of negative portrayals of women in films and the recent Delhi gangrape and murder, what we are choosing to watch is as important as what filmmakers are choosing to show us.
"It's been only a little more than a century that we have understood our own evolution," said independent filmmaker Anand Gandhi. "And it's been just two or three decades that we've realised that culture mimics life. So when we talk of a century of Indian cinema, we have to understand that we have had very less time to really understand the question: does cinema imitate life?"
Anand was speaking at 'Century of Cinema – the challenges in the next 25 years', a talk held at St Xavier's Multimedia Centre, recently. Joining him on the panel were film scriptwriter, filmmaker and member of the Central Board of Film Certification (CBFC), Anjum Rajabali, and current Managing Director of the National Film Development Corporation (NFDC), Nina Gupta. Film theorist and researcher Narendra Panjwani chaired the panel.
Anjum replied to a question on why non-masala films were not marketed enough in India, or why they faced a distribution problem, by saying, "If a product has to connect, it does. Look at a film like Ardh Satya (starring Om Puri). It was a disturbing film that ended on a note of despair. It barely had conventional, masala elements in it. And yet it ran for 20 weeks at Novelty Cinema in 1983 – in those days, if a film ran at Novelty and Chandan (considered the massiest cinema halls of Mumbai) for a long while, it was considered a sure hit. Despite the likes of Salim-Javed and Manmohan Desai being immensely popular at the time, writer Vijay Tendulkar had still penned a script that connected."
He also responded to a question on the portrayal of women in cinema. "Yes, the portrayal of women is a concern. We have to examine how popular culture portrays them, and does it have an effect on social psyche? There are no easy answers, but a collective interface is needed and we need to be conscious of why certain characters are shown a certain way. Filmmakers must be careful, because the audience may see things shown in films as endorsements of behaviour.
For instance, the portrayal of Sonakshi Sinha in Dabangg. Is her character's portrayal a recommendation of that film for how women should behave? If not, why has she been portrayed that way? These are questions that filmmakers need to ask themselves," he said.
To a question on whether good Indian cinema could possibly become mass, even as films like Rowdy Rathore and Dabangg ran
to packed houses across the country, Nina (in pic on right) said, "Films combine an element of art and an element of commerce. The reason films are so expensive to make, is because a film requires a huge collaborative effort from several different people who must all be on the same page. With such a big canvas, the element of risk is greater. If a certain kind of cinema, parallel cinema for example, does not have an audience, it is not going to be made."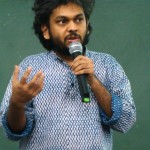 Anand (in pic on left) interjected when an audience member said that mass entertainers only dwelled on escapism, "Cinema serves extremely complex functions. Films do mirror who we are, our relationships, the times we live in, but they also mirror our aspirations, dreams and memories. A film is an anthology of our responses. Films that mean something to me have reflected the environment I have been in, and my introspection. So I don't think that idealism and realism can be mutually exclusive of each other in cinema."
An audience member asked Anjum if he felt that cultural and political interference in films could be a factor to consider for the Censor Board in the coming years. He replied, "Look, certain statutory guidelines are very strongly put down while passing a film. The Constitution does guarantee freedom of expression, but with the rider that we should be sensitive to others.
Coming to the point of bans and protests, let me give you the example of the film Aarakshan (directed by Prakash Jha, and which Anjum wrote). Even before the film's showing, a preemptive ban was imposed in three States, which the Supreme Court struck down. The film ran in theatres and there were no protests after release. But in the case of Vishwaroopam, a ban was imposed because the State chose to pander to protests. In my opinion, we should give groups the right to protest, but the State has no business pandering to these groups' emotions, which are not in the guidelines of the law. If you play to the gallery, there will be several threats to the identity of artists."