Film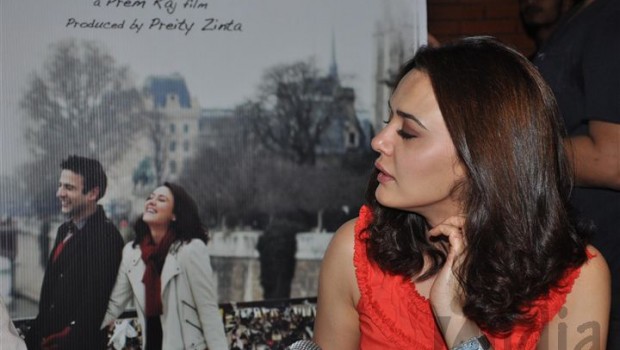 Published on October 24th, 2012
0
And…(long pause)…action!
The feisty Preity Zinta is back after a long sabbatical. But will she and her new film captivate the audience?
by M | M@themetrognome.in
'She came, she saw and she came back,' could very well sum up the Preity Zinta story. With her 'comeback' release next week Ishkq in Paris, (the film's release has been delayed yet again), I am obliged to review her career. And there are several points to ponder over.
I think Preity was the only actress who could pull off the bubbly girl-next-door image effortlessly. On most other actors, it just looked forced and stupid. This 'chirpy girl' image had it going for her since her debut in Dil Se, when most of us thought she was here to stay. And she did, for quite some time, amidst the hits and the flops, exceeding viewers' expectations with each movie.
A series of not-so-good movies were always topped with an in-your-face performance from Preity. She had it going for her, until a certain Mr Wadia rained on her parade. Loads of actresses fall in and out of love… but very few put everything they've earned (including their reputations) at stake.
Her relationship initially seemed like a fairy tale come true – a beautiful girl finds a handsome, rich boy who will take her on cruises around the world. But soon, the Preity dream turned into a (Loch) Ness nightmare. There were nasty rumours of Preity doing recreational drugs, that those drugs had now turned into a habit. They said that when she broke up with Ness, the ugliness of it all haunted Preity so much that she reportedly checked into rehab, and some even said that she had got a nose job done.
I really like her. Apart from being a reasonably good actress, Preity Zinta is an intelligent woman. She is educated, comes from a respectable family and was even a guest columnist with BBC Online for a brief while. It is unfortunate when a woman is mistreated by a man, and then by the industry. It was quite the task for her to get a distribution partner on board for Ishkq in Paris. The constant push-back from reputed distributors resulted in multiple delays in releasing the film. Now, it turns out that her film's director is ill, so this week's release date has been changed to next week's for now.
But even after the heartburn distribution and release issues, and the lack of support from most of her friends in the industry, Preity seems to have pledged to never give up. Like her show on TV (which also tanked), she seems determined to ensure that her comeback film will see the light of day. But as much as I want her to succeed, as much as I respect her for picking up the pieces and getting her act together, I have serious doubts about Ishkq in Paris.
But if you are still craving some Zinta before her new film hits the theatres, I would advise you to stay at home with a tub of popcorn and grab DVDs of her earlier movies that are actually worth a watch, such as:
– Sangharsh (1999): India's answer to Jodie Foster, Preity carries the complexities of a frail girl and tough cop brilliantly in this film.
– Kya Kehna (2000): Post-Juno, the teenage pregnancy issue has revealed its lighter side, but back in 2000, especially in India, this was still a hard-hitting issue. Her performance in the film did create quite a stir.
Lakshya (2004): This is my favourite Preity Zinta movie of all time. The staunch modernist/feminist side of Zinta was the inspiration for Romila Dutta's character.
Heaven On Earth (2008): See Zinta shine as Chand, a timid housewife trapped in an abusive marriage. Beware, the movie will go haywire with a bizarre turn, but remember you'd rather watch this than Ishkq in Paris.
Dil Chahta Hai (2001): Finally, the chirpy girl-next-door. Enjoy!
(Picture courtesy g.ahan.in)