Event
Published on January 10th, 2014
0
Two-day theatre conference starts in Mumbai today
Look forward to book releases, postcards, performances, panels and much more at this two-day do from January 10 to 11.
by Sophia Institute of Social Communications Media, Mumbai
Jhelum Paranjape met a pickpocket in jail and tried to explain Animal Farm to her. Dolly Thakore's son Quasar Padamsee's baby sitters included Shabana Azmi and Javed Siddiqui. PG Wodehouse helped Shanta Gokhale fight cancer. Nadira Babbar swore that she would never get into theatre.
At the inauguration of a two-day conference on theatre in Mumbai titled 'Many Cities, Many Masks' at 9 am on Friday, January 10, the first book of a proposed series, Lives Of The Women' edited by the award winning author Jerry Pinto will be released. Titled On Stage/ Off Stage, this book features four in-depth essays on the professional lives of  eminent women from Mumbai's stage such as Shanta Gokhale, Dolly Thakore, Nadira Babbar and Jhelum Paranjape.  The post-graduate students of SCMSophia have researched and written this book.
The conference being organised collaboratively by the Sophia College for Women and SCMSophia (Sophia Institute of Social Communications Media) on Friday and Saturday, January 10 and 11, 2014. This forms part of a series of Mumbai seminars organised at Sophia College for the last five years. The conference will feature academic papers and presentations by practitioners and panel discussions.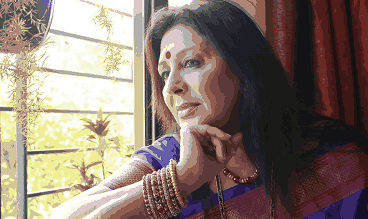 Additionally, a commemorative postcard set 'Green Room: Mumbai's Theatre Makers' featuring photos  taken by SCMSophia students of  personalities from English, Hindi, Marathi, and Gujarati  theatre in Mumbai including Anahita Uberoi, Shernaz Patel, Rita Rose, Annapurna Shukla, Aditi Desai, Vandana Gupte (in pic on left) , Kavita Lad Medhekar, Rasika Dugal, Shanta Gokhale, Nadira Babbar and Dolly Thakore will be released.
The postcards also feature insights in the form of quotes from all these personalities. "After the third bell the cast waits in the wings.  At this time, you realise more than ever how crucial you are to each other.   In the silence you acknowledge each others talent, strengths and weaknesses and together step into the collective performance zone… to create the collective illusion that we call theatre," says Anahita Uberoi." The theatre is a space where I submit to the will of my audience,to the vision of the director and to my own vanity," admits Rasika Dugal candidly.
This conference will also see the release of Mumbai—Socio-Cultural Perspectives: The Contribution of Ethnic Groups and Communities, a collection of papers presented at a previous conference at Sophia College. Students of SCMSophia and Sophia College will also be presenting short performances during the breaks adding to the festive atmosphere.  These include a street play on Freud, bhavai (on Marx), lavni (on Galileo) and qawwali (on Darwin) during the breaks.