Event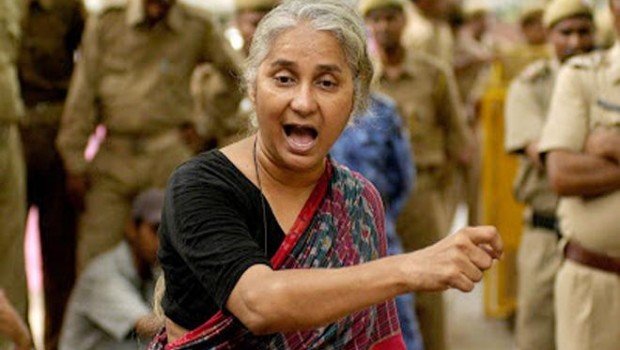 Published on January 9th, 2013
0
Slum dwellers' struggle reaches Day 8
Ghar Bachao Ghar Banao struggle continues, Anna Hazare support brings media to Azad Maidan in large numbers for first time.
by The Editors | editor@themetrognome.in
The Medha Patkar-led agitation of Mumbai's slum dwellers and those affected by scams in the Slum Rehabilitaion Authority continued yesterday, with a major shot in the arm: activist Anna Hazare landed at Azad Maidan to pledge his support to the protest and the relay fasts being undertaken therein.
With Anna's presence at Azad Maidan at 2 pm, media personnel descended at the venue in large numbers, probably for the first time since the agitation began.
As per a press note issued by the National Alliance of People's Movements (NAPM), "The continuing struggle of Mumbai's slum dwellers entered a new phase today…Shri Anna Hazare visited Azad Maidan and expressed his support to the struggle for right to shelter. In a democratic republic with the Constitution written in the name of the people, no Government has any right to evict people in a brutal manner and make them homeless, he said, calling a halt to the atrocities."
Earlier, Mankhurd MLA and Samajwadi Party honcho Abu Azmi visited Azad Maidan to express solidarity with the protesters; he was initially heckled and questioned about his absence from the start of the Andolan. Eventually, he agreed to support the protest and join the delegation that meets the Chief Minister at Mantralaya today.
"The GBGB Andolan received the minutes with decision by the CM and the Mantralaya, yesterday night. We, from Azad Maidan, sent a reply demanding certain clarifications and suggestions," Patkar said. The Andolankars have, however, forwarded a set of demands, some of which are: the Government must provide a written assurance of no further evictions till enquiry reports into the first group of SRA projects are out, a GBGB representative should be part of the enquiry process, and that slums must be declared within a month and provided with all basic amenities, among others.
(Picture courtesy pardaphash.com. Image is a file pic)