Event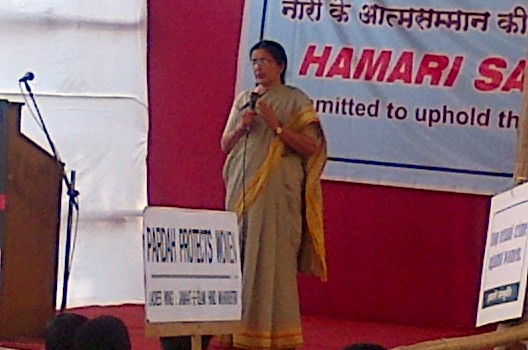 Published on January 24th, 2013
0
City NGO protests commodification of women
Demands quick redressal of sexual crime complaints; urges I&B Ministry to act against films, ads showing women as sex objects.
by Hamari Sanskriti
The public uproar and anger generated in the country due to the heinous rape and murder of the 23-year-old Delhi student compels us to introspect and find the possible reasons behind increasing sexual crimes against women. Though we speak about most of the reasons, we are not considering the root cause of the increasing incidents of sexual crimes – the portrayal of women as sex objects by the media.
One cannot deny the fact that the mass media is a very powerful and influential medium, and hence whenever an awareness campaign is started by the Government, whenever a public message is to be given to the masses, the civil society and NGOs, all  of them use the mass media. If the media can have a positive influence, then why are we not acknowledging that it may have a negative influence as well?
For example: addressing a woman as 'Chikni Chameli', songs like 'Sheela ki jawani' and lyrics like 'Main tandoori murgi hoon yaar, gatka le mujhe alcohol se' and 'Pallu ke niche chhipa ke rakha hai, dikha doon toh hungama ho' demean women and project them as sex objects. Such references to women, to parts of their bodies, certainly convey a lot about the intention of the creator of such content about the image of a woman. The gestures of dancers in such songs, and the lyrics, invite sexual aggression against women.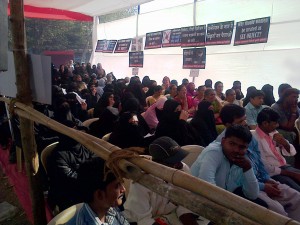 The posters of recent films like Jism 2 and Raaz 3 leave nothing to the imagination. Showing the naked body of a woman, with hands placed on her private parts, on huge hoardings in the middle of the roads, photographs of film sets printed on front page of the Bombay Times on December 12, 2012 showing Arshad Warsi holding Minissha Lamba's breast, are shocking and are examples of the levels to which the entertainment industry can stoop to sell their films.
It will be foolish to believe that the poster of Matru Ki Bijlee Ka Mandola, in which a girl in micro shorts is pointing towards her buttocks with 'Dekho Magar Pyar Se' written on her lower waist will not draw undue attention towards women on the road.
Be it films, advertisements, serials, newspaper photos, all of them are contributing in further demeaning women and commodifying their body. Such songs, advertisements, hoardings and posters, films and serials on television, are everywhere, in all media.
If such songs and scenes are not meant to titillate and arouse the viewer, then why are they created? Who are we displaying them for? How can songs like 'DK Bose' of Delhi Belly, or words like 'Paincho' of Matru Ki Bijlee Ka Mandola be suitable for a U/A audience? Is this what film producers want our children to say and learn? The way the name of one entertainment channel Bindass is written on BEST buses and hoardings is also objectionable, it is written with 'B' on one line, followed by 'in' on the next line and 'd ass' on the third line.
All the above examples are related to women, parts of the female figure or abuses and sexually suggestive words. With repeated hammering of the same, it is reflected in the behaviour and thought process of society. The entertainment media needs to be more responsible while portraying women in songs, films and advertisements.
Hence the staged a protest against such depictions, and made an effort to make the law-enforcers accountable for permitting such violations. We demand that there should be a regulatory body (comprising of psychologists, child counsellors, sociologists, teachers, parents, eminent lawyers, representatives from print, electronic media and film-makers), which has punitive powers to which we can complain and get a redressal for grievances. Immediate action should be taken against the violators of laws.
We would boycott all films and film/television stars who depict women on a demeaning manner or treat them as sex objects. The I&B Ministry being the ultimate authority for enforcing the various laws in the print and electronic medium cannot shirk its responsibility towards society. So we urge you to take immediate steps to ensure that henceforth no advertisement or film in the media treats women in a derogatory manner or as sex objects.
We also demand that those committing sexual crimes against women and children must be given stringent punishments and such cases be sent to fast track courts, with a time limit of maximum six months to deliver the judgment.