Uncategorized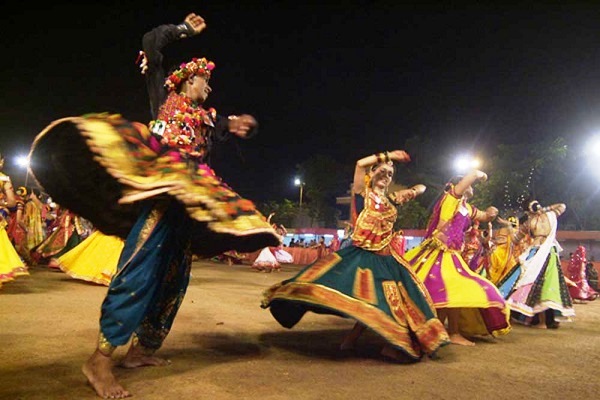 Published on October 5th, 2013
0
Get Navrarti ready!
Let's get you and your man ready for the festival with some awesome tips on dressing right and looking great.
by Deepa Mistry
Navratri starts today and now's the time to bring out the colourful chanya cholis, ethnic jewellery and accessories, apart from gorging on many tasty delicacies. But dressing right can get you all confused – but it's not that difficult putting the ideal look together. Of course, both men and women should know the latest trends in fashion and colour to even get started.
So here's how you can get your look together for Navratri:
Dress and jewellery: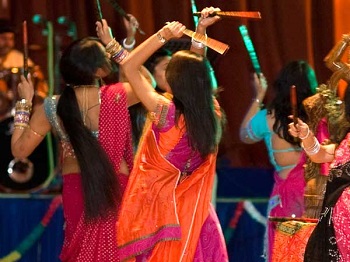 – Neons are very much in this season! Every year we have changing trends in dresses and chanya cholis. Team up a neon-coloured ghagra (having a thick border) with a golden blouse and a net dupatta. You can opt for a neon green ghagra and a red or hot pink net dupatta or mix-n-match colours like green with yellow or purple. Orange goes well with pink.  A lot of neon chanya cholis are also available (see pic on left).
– TV serial-inspired outfits are in vogue this year. A three coloured combination is the newest craze among many. Pick a red ghagra, in cotton, velvet or net which has a little embroidery or a lace, along with a yellow blouse with sleeves till your elbow and a green net dupatta. Go for stylish cholis – backless or with fancy designs. You can mix and match with your own favourite colour combos.
– Go Indo-Western. Full length cotton skirts with sequins look great when teamed with a tank top or a singlet. Wear a stole around your neck and you're ready for the night. Add a touch of glam with oxidised bangles or chunky traditional jewellery.
– Tailored chanya cholis are the best as per your own style, but nothing beats the beauty of a traditional outfit.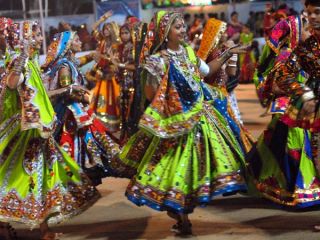 – A traditional chanya choli never goes out of fashion. This year's glamourous look is three-fourth length chanya cholis.
– Forever in trend are broad borders, rabari work, embroidery, multicolored panels, Kutchi print, traditional Leharia and Bandhani prints, beads and mirror work. Bright and beautiful colours with stones embellished will surely add elegance. Digital prints and colour blocking are very much in vogue this season.
– The trending jewellery this year is colourful wooden bangles or brass bangles, statement neck piece and simple tops. For a traditional look go for oxidized pieces of jewellery, which includes necklace, bracelets or kada, kamarband and nose rings. Kundan Navratri jewellery is also hot in this season.
– Men can opt for a traditional 'Kedyu', a typical Navratri outfit especially for men; they are available in a variety of colours. Or go for a nice kurta with jeans or chudidar.
Hair and accessories:
Braids are the best! While dancing, only braids will stay intact, so you could try a fishtail braid (see pic on right), top knot braids, side braids, four strand braids, rope braids etc. as they give comfort and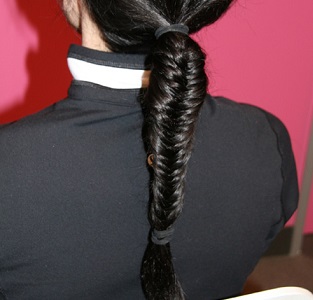 fresh look.
– Opt for accessories which give an ethnic touch, like a maang tikka, earrings with loops to be pinned in the hair etc. But don't overdo it, as chances are they may fall off while dancing.
– A traditional headband or Navratri cap with embroidered and mirror work goes well with the traditional chanya choli outfit. The caps are available for both men and women.
– Waist belts and arm bangles look exceptionally pretty with a typical outfit.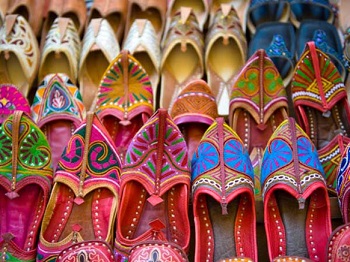 Footwear:
– The best footwear is flats. Avoid heels.
– Wear fancy Kolhapuris or mojris as they are available in various patterns and colours.
Grooming:
– Since cholis are mostly backless or have a low-cut back, try back polishing; it is a safe treatment also recommended by many doctors.
– For glowing skin, a lot of spas and beauty parlours offer special facials and other treatments for this season. Head and body massages are quite a rage not only among women but men also. You could book a couple package with your better half.
– Tattoos on the arm, back and ankle are the raging trend but only go for it if you are 100 per cent sure that you want it. Make sure you get it from a reputed tattoo studio. Temporary tattoos are good as well.
– Don't go overboard with make-up. Pop tints, reds and glitter are in this season.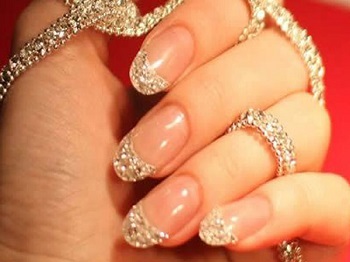 – This is a good time to get a manicure and pedicure. A huge variety of nail art options are also available. Go funky this year.
– Men can try funky and cool haircuts, hair highlights or full colour, hair gels etc.
– Waxing and threading, face clean-ups and facials are no longer restricted only to women. Even men are opting for these treatments to look good during the festive season.
We wish you a Happy Navratri! So put on your dancing shoes and enjoy the nine days of this colourful festival to the fullest.
Do you have a Navratri dressing up or beauty tip to share? Tell us in the comments section below.
(Pictures courtesy Manoj Sunstar, en.wikipedia.org, zeenews.india.com, www.bellasugar.com, idiva.com)