Places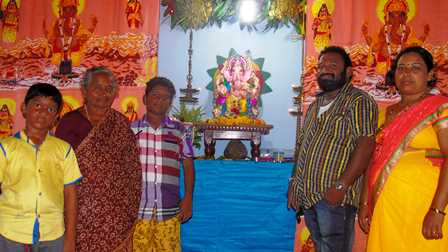 Published on September 24th, 2015
0
Goa goes traditional on Ganeshutsav
Far from Mumbai's raucous Ganpati celebration, many devout Hindu families in Goa celebrate the festival with dignity and quiet faith.
Ganeshutsav is Maharashtra's most prized…and Mumbai's landmark festival. In sharp contrast to the psychedelic 'lighting', the colossal 'mandaps' and endless sea of crazed dancers accompanying the 'visarjan', lies the festival's traditional, family-centric avatar in India's smallest state, Goa. The idols here are all made of mud and clay as a rule.
So, however far and wide a family's members move beyond their ancestral homes in Goa, come Ganeshutsav, they make a beeline for their roots. Reliving the joint family saga, almost all Hindu families across Goa bring the God of Knowledge home for at least five days. The 'hall' is decorated with multi-hued plastic ribbons forming a play of patterns on the ceiling leading to the murti usually bought from the Maharashtra-Goa border at Sawantwadi.
In a modest house at a quaint Arambol in North Goa, Sarika Naik rushes to complete her daily chores and pre-pooja formalities before the pundit arrives. Work doesn't stop for Sarika but there is a spring in her step as she hurries about offering tea to guests, getting the pooja samagri in place and attend to her in-laws visiting for the five-day fiesta.
Ganeshutsav is the Goan Hindu's most cherished festival. It binds families together during this period. Unlike Mumbaikars, Goans prefer celebrating Ganeshutsav in the most traditional manner. An idol of Lord Ganesha is established in the ancestral home and all members of the family and the extended family come together to live in the house for the entire duration of the festival. A daily pooja takes place in the presence of a pundit and traditional meals, which include puri–bhaji and neori (known as karanja in Maharashtra) and modak.
In contrast, in Maharashtra, particularly Mumbai, Ganeshutsav is perceived as an opportunity to display stark commercialism and vulgar show of pomp and wealth. Often, Sarvajanik Ganeshutsavs are organised to extort monies from local businesses who pay up more for fear of reprisal rather than devotion. The money involved in even creating a Mumbai Ganesha Mandap complete with decorations and security is phenomenal.
And opposed to the pack-and-go kind of Ganeshutsavs celebrated by families in Mumbai for a series of reasons that include lack of space, dearth of time and a shift in values systems, most Goan families have been celebrating Ganesha Chaturthi for generations together.
Putting profit on the back-burner, Goa shuts shop during Ganeshutsav. Bars down their shutters, hotels operate at bare minimum for local needs and markets open up just for a bit for essentials during this period. "It's a holiday for a full 11 days during Ganeshutsav in the whole of Goa," says Francis Fernandes, a resident.
It was Lokmanya Tilak who had initiated the public celebration of the festival which went on to be known as the Sarvajanik Ganesh Utsav. Over the years, families started installing the idol at home for shorter periods of time. And, today almost every Hindu family in Goa has its own Ganesha idol during the festival. The Ganeshutsav celebrations in Goa are predominantly traditional and family driven as opposed to the commercial extravaganza in Mumbai.
The mostly fish-eating families do not cook any fish or meat, even abstain from the use of onion or garlic during the five days they house the Lord. Alcohol, a tax-exempted commodity consumed widely in Goa, is strictly prohibited during this period. After installation of the idol, the next most important day is that of visarjan. Once again, unlike Mumbai where the idols are carted along public roads amid fanfare and cacophony, in Goa, families of an area get together and meet at a pre-determined place where all the idols are placed in a tempo or small truck and transported to a local water body which may be a lake or a nearby river side where they are collectively immersed.
In Mumbai, the installation and immersion is an ear-splitting public affair. Few families manage to get the Lord home for a range of reasons. The families here are nuclear in nature and with the constraints of time and lifestyle, Ganeshutsav too assumes urban proportions. It is a social festival in Mumbai, where even traditional aartis are mixed with bhangra beats.
In contrast, at Goa, it's a family affair with daily poojas, ethnic food, local bhajans and traditional aartis. It is not that there aren't any Sarvajanik Ganesha Mandals in Goa: every village in the State has at least one, like Mandrem's Sarvajanik Ganeshutsav Mandal which keeps an 11-day socially-driven celebration so that Goan families from the area can participate after the five-day immersion of their own Ganesha. The celebrations include regional songs and dance, folk songs, bhajans, ghumat arti, kirtan, drama, etc. Local 'heroes and performers' are felicitated and lectures are organised to inspire and motivate the youth.
Sarvajanik in the true sense as it aims to achieve public good.