Deal with it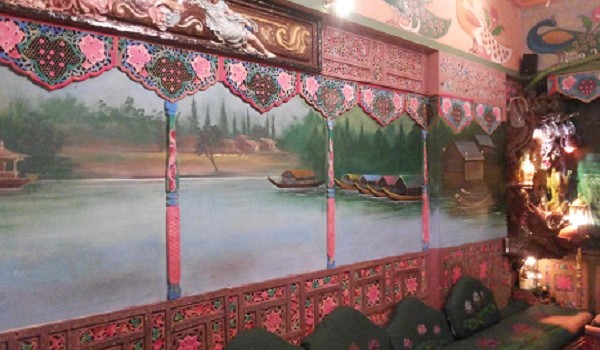 Published on September 20th, 2013
0
The scrap house
An artist put a lot of scrap and unused material to creative use and created a themed home in Sion. Read on to know how.
by Vrushali Lad | vrushali@themetrognome.in
I was invited to view the Jamkhedkar residence in Sion last week, amidst the Ganpati fervour. The Jamkhedkars celebrate the festival with a 10-day themed Ganpati decoration, and at first sight, I was slightly bewildered by the living room in which I was invited to sit. I could hear a waterfall close by and the ceiling, with angel motifs and a beautiful woman on it had an eerie 3D effect.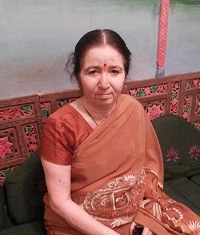 Actually, everything about the house is themed – the bedroom's theme is 'Khajuraho', the living room is a 'Kashmiri shikara' (see pic above), the kitchen is a 'garden' and the music studio they own on a lower floor is 'cave' themed. Says Dr Neela Pimparkhede Jamkhedkar, (61, in pic on left), whose idea the house's design is, "When we purchased the house and studio about 10 years ago, we had little money left over to get the interiors of the house done with furniture and all the fixings. Besides, I had always wanted to decorate the house my own way."
Neela's idea of decorating the house was simple – decide on a theme per room, then look for items she already possessed and which could be put to use, and lastly, go sourcing for items she would need. "You will be amazed at the amount of things every house has, things which are no longer usable but which we can manipulate and use as something else. I got a lot of such items together – an old painting of a woman I had done, urns and murtis I had brought from my maternal home, and even sheets of cardboard that were just lying about."
Getting down to work
Chor Bazaar became Neela's favourite go-to refuge for things she could buy. "My husband and I would do the rounds of the place, and I picked up so many beautiful, ornate things there," she says, pointing to the sliding door that closes off the living room from the passage, and the front door of the house. "See how beautiful these doors are. I got them at not over Rs 2,000 per door at the time. Then I got them home and made my carpenter work on them to create the designs I wanted."
She also sourced several wooden partitions and strips from a local scrap shop, which she would buy at Rs 30 a bag (till the shop owner wised up and demanded an exorbitant amount).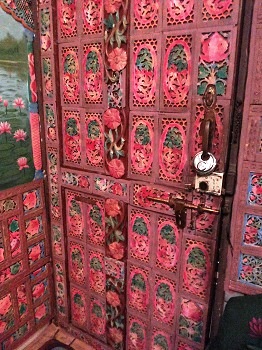 "I had hired a local carpenter, Rampreet, a most patient man who would do exactly as I said. I got him to carve each strip to the design I wanted, and then these were pasted in a pattern (in pic on right)." She even hired a local painter, Nandu, to implement her designs and assist her wherever required – Neela is an accomplished artist on both fabric and canvas.
Chor Bazaar also came to the rescue when Neela wanted knick-knacks and smaller items. "For example, I got a lovely little beer keg for the bar that I created for my husband and son," she says, showing off the little corner which is adorned with a mural and which holds bottles and a running waterfall. "I also bought a measure of cloth and stitched it myself for the lamp over the dining table. Besides this, I got a small mandir from Satguru's and created a little puja corner in the bedroom. It is everyone's favourite space in the house," Neela says.
Lessons learnt
Neela says that though putting the house together this way took a long while, it gave her the kind of creative satisfaction nothing else could give. "Our house is not expensive, but it has taken a lot of effort and ideation to get it to this stage," the former Ayurvedic practitioner says.
"The setting up of the house had taken over my mind completely. There were days when we would have no money left over for the cab home after making our purchases. My husband and I once carried giant murtis home in a BEST bus!"
She contends that it is easy to decorate your home yourself, provided you have a clear idea of what you want and the resourcefulness to procure the items you need. "I am always looking for interesting objects that can be put to use. And I make a lot of things at home myself – I have painted entire carpets and put together canvasses too," says the artist, who has also held exhibitions of her work previously.
"In a city like ours, using every square inch of space is essential. Besides this, one must keep learning all the time," the senior citizen says. "I learnt to use the Internet so that I could browse different designs and interpret them my way. I look up a lot of Street Art as well. When I'm not painting, I'm designing sarees or strolling through interiors exhibitions. Eight years ago, I got a diploma at JJ School of Art, which honed my skills further. I also plan a different theme for Ganpati each year. Planning and designing my house taught me several things."
She adds, "I have learnt one thing – the world is a beautiful place and we have to participate in its beauty. If we invest ourselves in beautifying our homes, we will find the kind of happiness that nothing else can give us."
Dr Neela Jamkhedkar is open to conducting a paid tour of her home and explaining the various ideas she has used in designing it. If you want to see her house and get design inputs for your own home, write to editor@themetrognome.in and we will facilitate the interaction.