Hum log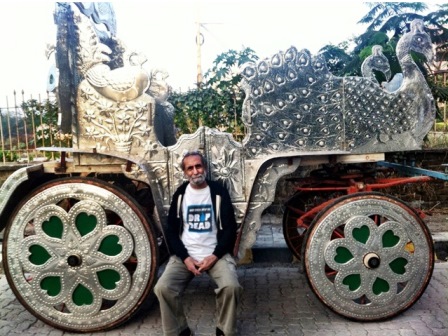 Published on October 29th, 2015
2
Meet Mumbai's water warrior
Aabid Surti cannot pass by a leaking tap without fixing it. Till date, he's saved 3 million litres of water.
by Ravi Shet
With the rise in global population, there has not been a corresponding increase in precious resources such as water. It is rightly said that the next wars in the world will be fought over water, but how seriously does the average person take the threat of water scarcity?
Countries around the world are implementing various methods to save water, but the actual vision for this initiative to succeed must come from the common man. That's where Mumbai's amazing Water Warrior comes in. Meet Aabid Surti (80) – writer, painter, cartoonist and creator of the cult comic figure, 'Bahadur' – who has been running a one-man NGO 'Drop Dead Foundation' for the past eight years. He has been instrumental in saving tonnes of water by fixing leaking taps free of cost in Mira Road.
Aabid's childhood was spent on a pavement in Dongri and he was exposed to the daily struggle for water with his mother joining the ranks of women lining up at the common tap each morning for their bucket of water. "But my movement to save water started I went to a friend's house and saw one of the taps leaking. This hurt me a lot. When I asked him why he did not get the tap fixed, he said that getting a plumber for such a minuscule task was difficult. So the next weekend, I took a plumber to his house and not only fixed the leaking tap there but also several more in the locality," he smiles.
Aabid's war against leaking taps got a boost when he received an unexpected cash prize of Rs 1 lakh from the Hindi Sahitya Sansthan, Uttar Pradesh, towards his contribution to Hindi literature. He says, "Each time I ran out of funds and thought of stopping, I got donations through my close friends and people who understood my work. They would help in the form of money or awards. God has been my fundraiser from the inception of Drop Dead Foundation and somehow He manages the funds for my mission, which is a miracle in itself."
Every Monday, Aabid identifies buildings or slums and even chawls. Next, a volunteer from his Foundation visits the secretary of the concerned housing society and if the secretary agrees, then they put up posters on the notice board announcing their arrival. On the following Saturday, they distribute pamphlets describing the Foundation's work and why they are coming on Sunday to their area. On Sunday, Aabid, a volunteer and a plumber go to the concerned home and locality to fix the leaky taps.
"We put up a sticker that reads 'Save Every Drop or Drop Dead' next to the tap repaired by us. From the inception of the Foundation till 2014, we have saved 3 million liters of water," he claims. "My basic idea is to motivate individuals, especially senior citizens, and they should believe that if I can, they can. I invest a couple of hours a week to do this and it does not require a large office or staff, it just needs a plumber to fix the leaky taps."
Apart from his mission, Aabid is busy with his writing and painting and travels around the country addressing students, NGOs and other institutions advocating the need to conserve water. He wants to help individuals who want to start this mission anywhere in the world by providing online help for designs of pamphlets, posters, stickers and other relevant documents. Aabid says, "I tell individuals to replace my address and contact details (on these design materials) with theirs before printing it out. I hope people start this project in their own locality so that we can stop massive wastage of water."
To volunteer at Drop Dead Foundation or to start this mission in your locality, contact Aabid Surti at C -16/003, Anuroop, Shantinagar, Sector 11, Mira Road (East), Mumbai. Call him on +91-9820184964.