Hum log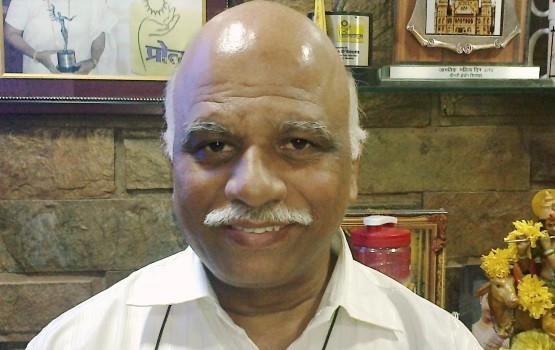 Published on September 16th, 2015
5
This man is God for many Borivali senior citizens
Mark D'Souza has been delivering free lunches to senior citizens in IC colony since 2012; numbers of lunches are steadily increasing.
by Ravi Shet
At the core of our struggle to make money and acquire status in life is the basic human need for daily food. Most of us are lucky to receive two square meals a day, but while we have enough to eat, we take our meals for granted. Not so the countless senior citizens who are either too poor or too ill to feed themselves. What happens to these people, who do not receive daily meals?
In the lives of some of these senior citizens comes an angel in the form of Mark D'Souza (57), a real estate agent based in IC colony, Borivali. With his silver moustache and warm smile, Mark gives off a welcoming aura at first sight. But when you realise that this affable gentleman has been providing free lunches to senior citizens in the IC colony-Kandarpada belt from the year 2012, your respect for him increases manifold!
"I started delivering free lunches to senior citizens from November 14, 2012. I have always been a good planner and I have a lot of energy, so I have never missed delivering a single lunch for even one day since I started," he beams.
There are free lunches in the world
Mark was born in Mulki, Karnataka and lost his mother at an early age. Staying with relatives and then moving to Mumbai for further studies all came with their own challenges. "I worked in Libya for six years, then I shifted back to Mumbai and set up an estate agent firm," he explains.
It was in 2012 that Mark pondered over the question of senior citizens who are incapable of cooking their own food. "That's when I decided that I would start a free lunch service for elderly people in the area. I took Rs 5,000 from my wife Yvonne (a social activist) and she also helped me find suitable elderly people in the area," he says.
Everything fell into place at the right time, and from an initial five lunches, Mark delivers free lunches to 30 people in the area. Hearing of his work, many friends and well wishers also came forward to donate money, or even steel lunch boxes to encourage his efforts.
What's cooking?
Mark's four-compartment dabba comprises five to six chapatis, rice, sabzi and dal. On Wednesdays, there's egg curry, while he includes chicken or fish curry on Sundays. "We cook the food in less oil, less salt and less spices. But we pack in loads of love and the food is prepared in a hygienic environment," he explains.
The vegetables are bought daily by the husband and wife, and his cook handles the meal preparation. "I tell my cook, 'God is watching our actions and we should not compromise on the quality of our work. When it is noon, I start my delivery schedule that goes on till 2.30 pm. It has become a part of my daily routine." He adds that several security guards of the buildings he delivers in now know him personally and they take the dabbas off his hands and deliver them. "What do I get out of this? The smiles and blessings of the people who eat our food. And the blessings from my friends. These are priceless for me," he smiles.
You can contact Mark D'Souza at Crrystal Care Service, K 3, Vershi Villa, Opposite IC Bakery, Near IC Post Office, IC Colony, Borivali West. His mobile number is +91 98338 53523.
(Picture courtesy Ravi Shet)