Hum log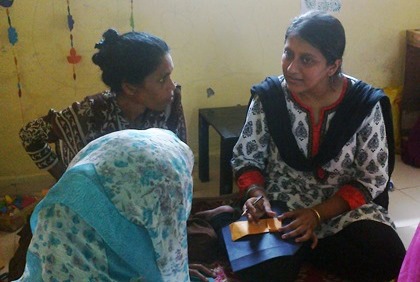 Published on October 21st, 2015
0
Empowering women through paper
Shalini Datta quit a high-flying corporate job to train impoverished women in Malad the power of self-sustenance through paper products.
by Ravi Shet
It takes a lot of courage to give up a full time salaried job to start an organisation that helps underprivileged women through the sale of handmade paper products. But that is precisely what Shalini Datta did. After working for almost nine years in top IT organisations in India, Shalini started AfterTaste in September 2012, a self-sustaining organisation in Malad, Mumbai. AfterTaste not only trains underprivileged women from Ambujwadi slum in Malad to become artisans, but also boosts their confidence to earn money and support their children's education.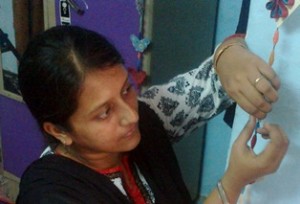 Shalini's journey is an interesting one. After completing her chemical engineering from Pune, she got job with a top IT company and in a few years, she switched to another one in Kolkata. "I took part in the company's CSR activities, which included teaching children every Saturday. These children lived near heaps of garbage and were extremely poor," she remembers. "Soon, I developed a strong desire to bring about a social change, but I didn't have time from my Monday to Friday job. So I quit my job to do what I really wanted to do," she smiles.
The Teach for India fellowship followed soon and brought her closer to the impoverished section of society – it gave her the chance to experience their pain and struggle firsthand. "I was given Class 2 to teach from around 80 students in a municipal school in Malad. I would keep them engaged through various art and craft activities. The fellowship was a turning point in my life, where I would teach the children and also interact with their mothers. These women struggled for basic needs, but they wanted to give their children a shot at education," Shalini says.
"I found two enterprising women and started AfterTaste," she adds. "My interest in art and craft helped me and I trained these two women in developing paper bags from newspapers. My engineering background helped me experiment with product design and my teaching experience helped me communicate to these women in a simple way," she says.
AfterTaste started operations from a small space in a chawl occupied by one of the women who worked with Shalini,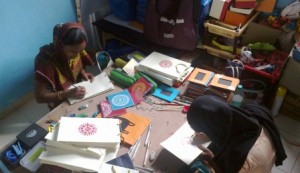 but in May 2015 they moved to a new space with 15 women currently working on 20 different handmade paper products such as folders, mobile stands, lamps, and photo frames. AfterTaste had its first exhibition in Godrej, Vikhroli in October 2012 and from there they have come a long way and it's still a self-sustainable organisation. Along the way, it has inspired unskilled women to become more confident about running their homes and sending their children to school.
Shalini says, "Each of our products has a personal touch. Everything here is made using paper and is customised by women through decoration in their own distinctive way."
Kamrunnisa, a mother of three daughters and a son, was confined within the community; however AfterTaste completely changed her life. She says that Shalini's encouragement helped her step out of her home for work. "I am thankful to Shalini didi for her support and training. I can now support my family, pay school fees and also ensure that my daughters get the same education as my son," she grins. "I never thought that I would go outside Mumbai and teach underprivileged women in Gujarat how to make handmade paper products. The respect I got from them was memorable for me."
The women working with AfterTaste are taught teamwork and bonding so that there is no sense of rivalry against each other. Fatima Shaikh, who has been associated with AfterTaste since its inception says, "I now contribute to my family's financial needs, which makes me feel good and also gives me a sense of confidence to face people. I now want to learn English and also want my children to have access to good education."
Shalini adds, "Right from purchasing raw material to pitching ideas to clients and creating more sales avenues is a difficult job. But seeing the positive change in the lives of these women and their passion keeps me motivated to push my limits." She says that she plans to reach 100 women by year 2019 through AfterTaste and empower them so that she can break their vicious cycle of poverty.
To volunteer at AfterTaste or to buy their products, Shalini Datta can be contacted at C/6, Malwani Panchsheel Cooperative Housing Society, Plot No. 62, Near Ambujwadi Rickshaw Stand, Malwani, Malad West. Call +91-9673992618.