Cinema@100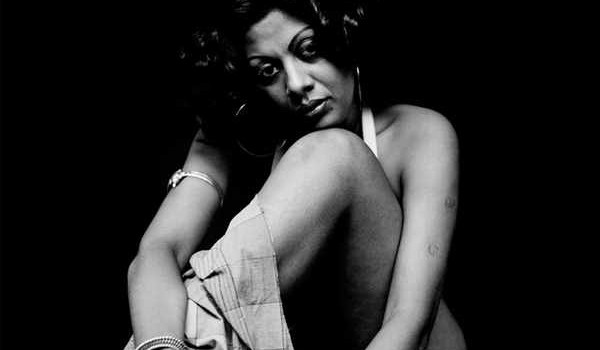 Published on August 7th, 2013
0
Much more than just a streaker
Brash, bold and beautiful Protima Bedi was passionate about dance and never cared what the world thought of her lifestyle.
by Humra  Quraishi
A talented dancer and a woman bold enough to run naked across Juhu beach, Protima Bedi always remained a bit of a mystery to all, despite her open and frank nature. Known more her various link-ups and her torrid marriage to actor Kabir Bedi, the subsequent divorce and the tragic suicide of her son, Siddharth, Protima was a livewire. Her tragic death in 1998, when she was one of 108 people killed in a landslide in UP, sent shock waves across the country. She was 50 when she died.
Much before I could have the chance to actually interview Protima Bedi, I had been seeing her at various events in the capital city.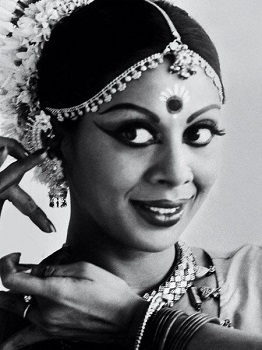 There were things about her that never changed with each subsequent sighting: she was never alone, but she would always be accompanied by a male friend, who invariably happened to be from the Who's Who of the city.  She always wore simple cotton clothes, very often the white cotton two-piece saris with coloured borders, from Kerala. The sari would be draped rather low, exposing her midriff.
There would be a direct emphasis on her breasts through the cholis she wore, which were invariably low-necked, her ample bosom more than making its presence felt. She wouldn't wear much makeup, preferring to stick to her big bindi and maybe some lipstick on her thick lips. Her pout was her best feature and she used it often – oh yes, she knew people were always ogling her. Her gait was confident, and even in a sari, she would ooze sensuality. There was something very different about her.
I met Protima and spoke to her at length when she was here in Delhi to dance before the newly-constituted Association of British Scholars (ABS). She was collecting funds for her dance school, Nrityagram, that she had set up in Karnataka.
She was ill at ease fielding questions on the then reigning political figure of Karnataka, Ramakrishna Hegde, whose name was linked with hers in those days. On being asked about romantic or sexual links with him, she retorted, "It that was true (that she was having an affair with Hegde), I wouldn't be begging for money for my dance school. Right now I feel like a beggar, asking for donations of Rs 100 or Rs 10,000. But there's no giving up. No way."
Her dance school had reportedly got a lot of funds from the Department of Culture. When I asked about this, she said, "Of course we got funds from them but we need more. I'm taking our traditional dance to the rural areas, where it belongs. Why should dance be limited to the urban elite in air-conditioned halls? Today we have more than 200 village children coming to learn different forms of our traditional dance and we have 18 residential students, too. It's a dance village that I'm trying to run."
I wondered why, with all her high-profile 'contacts', she was finding it so difficult to get funding. "Which men? Which contacts? I'm so involved in my dance village that I have no time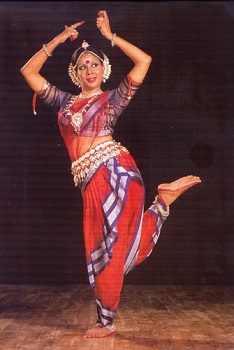 to think of anything else. Right from early morning I am so busy with my daily chores. We do all the work ourselves, cleaning, cooking, washing, teaching. I am determined to continue doing what I'm doing. I mean, this struggle. I have to keep this dance school alive. I am a very strong-willed woman and even if I have to starve, I will not give up."
Starve? For what?
"Obviously for food! What were you implying?" she shot back.
Then she started explaining that traditional dance forms must be taught to women, and that it's time women of this country were given their due freedom in every sense of the term. "How can I rest in peace when so many injustices are going on? Look at the way our women are being suppressed. Look at the crap going on in the name of culture!"
I pointed out to her the contradiction in her own behavior – talking of culture and rural India and yet willingly dancing for an urban elite forum like the ABS. She hit back, "I'm doing it for funds! For my dancers, my dance village, my passion! I am one of those women who never gives up."
 (Pictures courtesy bollywood.bhaskar.com, www.triveni.org, forum.santabanta.com)