Become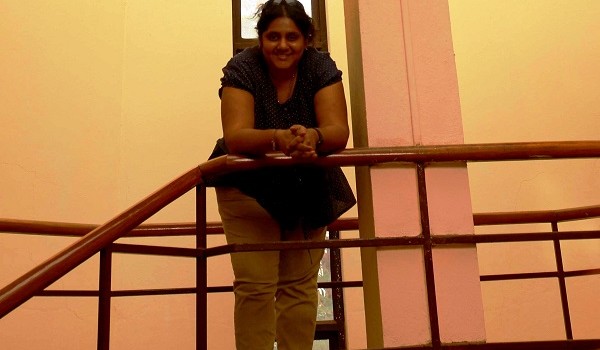 Published on January 29th, 2015
1
The journalist who uses art to highlight society
Mamta Chitnis Sen uses her skills as a journalist with a painter's keen observation to highlight contemporary issues affecting society.
by The Editors | editor@themetrognome.in
Mamta Chitnis Sen is one of a growing tribe of Mumbai's talented multitaskers – she is a journalist by day and a painter by night, and she travels the country extensively working on both her journalistic assignments and such art-related tasks as restoration of colonial buildings and documenting their history. She recently had a showing of her works describing Sawantwadi's women-in-waiting, which opened to a very good response and brought many accolades for her.
In a chat with The Metrognome, Mamta talks about how she started dabbling with art, her inspirations, how she makes time for her pursuits, and what's next. Excerpts from the interview:
You have had a long career in news reporting and feature journalism. When did you decide to dabble in art as well?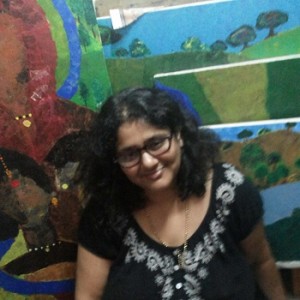 I have always been inclined towards art since childhood. In fact, in the course of working with several publications, I even penned several articles related to art and artists but it was only in the year 2008 during my stint with a political party as its office bearer that I had an opportunity to organise an art exhibition. The motive was to connect the common grassroots worker to the elite art circuit and bridge the gap between the two.
Have you ever watched a political rally? It is so colourful and vibrant, just like a canvas littered with colours and shades of all hues. Similarly, the banners and posters which are on display during election campaigns also speak a language of their own.
My hunt for artists to duplicate any form of social issue on canvas ended up blank since I discovered that a majority of artists were more interested in painting safe subjects such as that related to spirituality, meditation etc., than paint on any socio-political issues. Finally in 2010, after running around in circles, I decided to learn art formally and paint what I thought. So I joined the Sir JJ School of Fine Art to study paintings and drawing and since then it has been a great journey.
How do you balance your journalism career with your artistic pursuits?
Journalism surely does take a lot of my time (she is currently Executive Editor of Dignity Dialogue and has worked with Mid Day, The Sunday Guardian, Society, and Sunday Observer) but it is what I enjoy, I love being a journalist. Similarly, I also love painting and manage to devote my 100 per cent to both. I never compromise on any of the two. I believe that if you love doing something, you can always find time for it, whatever the circumstances. While I work on my journalism assignments during the day, I paint at night – mostly post midnight, till the wee hours of dawn. This is the time when the phone doesn't ring, and since everyone is in deep slumber, there is silence around and in silence one can think and paint at ease.
Tell us about the art collective you founded. How did this come about? 
It's called 'Canvas Clan- A congregation of artists from all walks of life' and was first founded along with students of the Art Class (Hobby) of Sir JJ School of Art, Mumbai in 2010. The idea was
conceptualised during a class field painting trip to Khandala. It initially kick-started with an exhibition of art works with 22 students from various age groups and different professional backgrounds, namely furniture designers, software engineers, writers, entrepreneurs, etc. It was aimed at being a guiding force of light to encourage art lovers and art practitioners to seek academic excellence in understanding and promotion of art through art workshops, art studies and public exhibitions.
I must say that also it was because of the efforts of the Dean of Sir JJ School of Art, Prof Vishwanath Sable who encouraged us that the collective came into existence. 'Canvas Clan' also played a key role in exhibiting unique works in celebration of the Centenary Year celebrations of Bihar State in the year 2011, and was invited to showcase works that highlighted the confluence of past and present progress of Bihar through a series of paintings.
What are the other initiatives in art that you are currently involved in?
I am currently involved in documenting and researching history of JJ School of Art and its allied branches pre- and post-1857, when the Institute was first founded. The first part of my study was the existence of a state-of-the art Pottery Department at the Institute's campus grounds constructed by the British. The building used to house ceramic samples from European countries, traces of which are still found at the Dean's bungalow within the campus. Between 1873 and 1875, the Pottery Department grew to such fame and glory, that it even threatened the sales of the famed Wedgewood Company in London. The building was later torn down in 1926 following the terrible plague which led to the decline of pottery students frequenting the campus premises, affecting the production and sale of ceramic products.
I also collect artefacts which most people throw away. Another art project which I am working on is beautification of the Rajbaris (palaces) located in interiors of West Bengal. Most of these Rajbaris and the mansions surrounding them are hundreds of years old and either in derelict condition, abandoned or neglected. I helped in the beautification of the house of the late Ishaan Chandra Sen, the zamindar of Guptipara in November last year. The beautification was done with involvement of children belonging to the families.  This initiative was aimed more to give them a sense of belonging of their roots and identify them with their past and culture.
Apart from this, I am also involved as a Social Network Officer for World Citizen Artists (a forum of international artists, musicians and writers founded in Paris in 2013). WCA works to address social issues across the globe through art and creativity.
Can you describe the process of putting up your first exhibition? What are the costs involved in putting up an exhibition?
My first exhibition was at Main Hall, at Sir JJ School of Art. Though we were saved from the cost of footing the price of the venue, we had to pool in money for framing, banners, food for guests etc. But ideally the cost to set up an exhibition is almost Rs 1,00,000 and upwards in Mumbai, which includes rent, framing, catalogue printing, publicity material etc.
How many exhibitions have you had so far? Where?
I have participated in seven exhibitions so far, five in Mumbai, and one in Hyderabad, and Kolkata.
What has been the most interesting/thought provoking moment in your journey as an artist?
There have been several and it is difficult to pin point any one. But the most interesting moment was when someone actually bought three of my works together in one go!
What are your future plans?
I want to set up my own artists and writers' residency some day. The residency would not only provide space to those from the unorganised sector (especially women) to unleash their creative side, but also help them in seeking an alternative career in art.
A word of advice you would give to artistes just starting out to explore their creativity?
Do not hesitate in believing in yourself. Seek who you are. You may be surprised at what you are capable of!
(Pictures courtesy Mamta Chitnis Sen)