Big story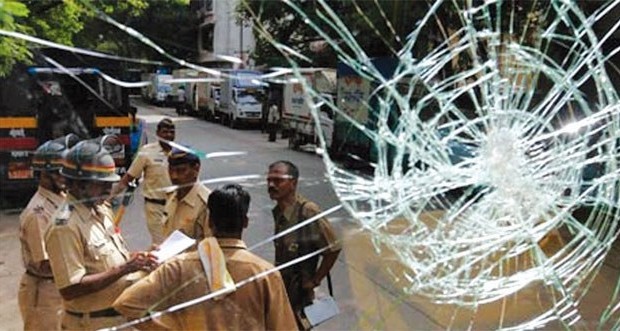 Published on November 25th, 2014
0
Mumbai becoming unsafe every year
Latest White Paper on law and order in Mumbai by Praja Foundation reveals huge spike in crime, low policing effort.
by the Editors | editor@themetrognome.in
Maximum city is in the grip of maximum crime. And understaffed, under-motivated cops are adding to the problem.
A White Paper released by the city-based Praja Foundation today, November 25, confirms some extremely grim findings that most Mumbaikars had probably already suspected. Apart from crimes against women and children increasing, there is a serious lack of policing, the Paper finds. The survey was conducted with a sample size of 22,580 respondents in Mumbai for the period 2013-2014, across all strata of society, of which 32 per cent confessed that they did not feel safe in Mumbai any more. An astonishing 65 per cent of respondents confessed to witnessing a crime of the nature of an accident, theft, murder, or rape.
92 per cent of those charge-sheeted have got away scot free. Overall, the conviction rate remains at 22 per cent. Currently the city has a sanction of 41,643 personnel, but only 37,159 are working as of now, a shortfall of almost 11 per cent.
Among those who witnessed a crime, 44 per cent have faced a crime themselves.
Extremely serious realities
As per the White Paper:
– There is 47% increase in rape cases and 52% increase in molestation
– North Central Mumbai has highest rate of registered crime
– There is 8% conviction rate in Class II serious offences
– There has been a 66% rise in chain snatching cases
– There has been a 17% increase in cases of housebreaking
– There were 1854 accidental railway deaths in Mumbai
As per a press released issued today, Praja said, "Disturbing crime statistics reveal that Mumbai is in urgent need of change in the area of law enforcement. The city is fast becoming an extremely unsafe place to live in. Recently released reports by Praja suggest that a combination of low conviction rates and high levels of understaffing in the police force have resulted in the crumbling of law and order in Mumbai. Although conviction rates in Class II serious offences (cases involving bodily harm, murder, rape, grievous hurt, kidnapping, abduction etc.) improved slightly from 7 per cent in 2012 to 8 per cent in 2013, they are still very less. 92 per cent of those charge-sheeted have got away scot free. Overall, the conviction rate remains at 22 per cent. This is a low figure. To maintain law and order in the city, it is imperative that these figures rise. Low conviction rates lead to thriving crime and, consequently, an unsafe city."
Nitai Mehta, Founder and Managing Trustee of Praja Foundation, said, "Crime has flourished all over the State's capital, and we must question why there has been such a sharp rise, despite having a police force that is honour-bound to protect the citizens." Perturbing figures have emerged for the North Mumbai (Borivali, Dahisar, Malad West) area, which recorded the highest number of chain snatching incidents (487 incidents, an increase of 84 per cent) in 2013-14. 44 per cent of the respondents find North Mumbai an unsafe area to live in. North Mumbai figures show that, since most of them called the police helpline numbers of 100/103 etc. (65 per cent), which are manned by a distressingly understaffed Control Room (deficit of 47 per cent personnel), many of the complaints failed to be registered appropriately."
Milind Mhaske, Project Director of Praja, argued, "There is obviously an urgent need to upgrade and increase staff in the Control Room, so that cases get the attention they deserve and crime does not go unreported". This can, perhaps, go to explain why there are high instances of crimes such as chain snatching and house breaking in Mumbai. Mhaske added, "In 2013-14, chain snatching has gone up by 66 per cent; theft, by 19 per cent, Rioting, by 8 per cent. These are the crimes that really affect people's perception of the city. And that perception is that, currently, Mumbai is not the safe and secure place that it once was."
On the whole, however, North Central Mumbai (Vile Parle, Kurla, Bandra) remains the area where registered crime is most rampant, with 734 cases of housebreaking, 1598 cases of theft and 819 cases of vehicle theft. Nitai Mehta said, "Understaffing and multiplicity of tasks in the Mumbai Police Force is compromising investigation and thereby leading to low conviction rates. A fully manned force will mean that the officers handling criminal cases will focus solely on these investigations, rather than being called on to man roadblocks and performing bandobast duties. Consequently, cases that make their way to the courts will be watertight and there will be an assurance that the guilty will be convicted".
Currently the city has a sanction of 41,643 personnel, but only 37,159 are working as of now, a shortfall of almost 11 per cent. Due to the huge gap between sanctioned and available IOs (Investigating Officers), investigations have not been conducted in an organised manner. Mhaske contended, "A study of acquitted cases shows that the chief reason for acquittal has been 'lack of evidence'. This, in turn, showcases the performance of the IO, the public prosecutor and the lack of coordination between the two."
Summing up, Mehta said, "Priority must be given to training and staffing the police force so that it is strong enough to handle the crises a large and populated city like Mumbai throws at it. Issues related to crime and its curtailment must be a regular topic of deliberations. MLAs must be constantly engaged with the citizens as well as the police force to keep a diligent eye on the law and order situation in the city. Only then will Mumbai become a safe and peaceful city to live in".
(Featured image courtesy www.thegoan.net. Picture is used for representational purpose only)