Big story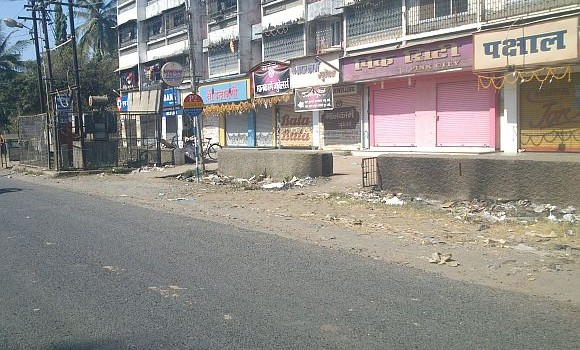 Published on November 29th, 2012
0
Dhada Hospital remains open despite bandh
Shaheen Dhada's uncle kept clinic open despite a total shutdown in Palghar. Meanwhile, cops and special security units maintained security.
by The Editors | editor@themetrognome.in
True to its word, the Shiv Sena enforced a total bandh in Palghar yesterday, to protest against the suspension of two senior police officials in the Facebook arrests case of two Palghar girls, Shaheen Dhada and her friend Rinu Srinivasan. However, despite a complete lockdown – shops, industrial units and other establishments were closed and transport was off the roads – Shaheen's uncle, Dr Abdul Dhada, kept his clinic and medical dispensary open. Police personnel were posted outside the clinic to provide security all day.
After Shaheen was pulled up by the Shiv Sena for questioning the shutdown of Mumbai after the demise of Sena chief Bal Thackeray on November 17, 2012, a group of Shiv Sainiks had ransacked Dr Dhada's clinic. Though the charges against the two girls have been all but dropped and 10 arrests have been made in connection with the vandalism at the clinic, no compensation has been given to Dr Dhada yet.
The rest of Palghar remained indoors, however. Heavy security was deployed all over the area and no untoward incidents were reported. The Shiv Sena yesterday reiterated its demand that the State revoke the two police officers' suspension.
(Picture courtesy rediff.com)