Big story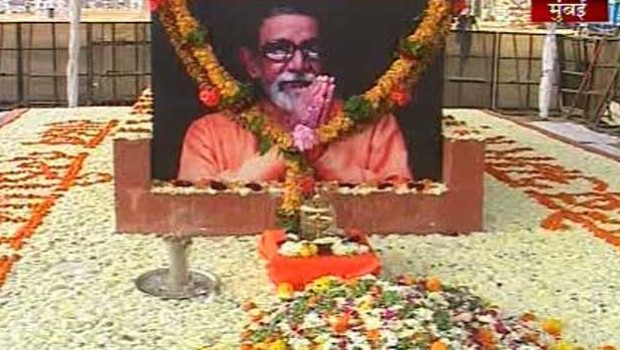 Published on December 11th, 2012
0
Bal Thackeray makeshift memorial still stands
Shiv Sena warns against State and BMC decision to remove the memorial from Shivaji Park; several Sainiks 'guarding' the site.
by The Editors | editor@themetrognome.in
It seems that the time for the removal of the makeshift Bal Thackeray memorial at Shivaji Park is drawing close. The Park is witnessing heavy police presence, and the numbers of Shiv Sainiks pouring in to 'guard' the memorial from demolition are also on the rise. Reports say that a few BMC vehicles used in razing structures were damaged at the BMC's Worli garage, after a rumour spread that a demolition squad was arriving at Shivaji Park soon.
Shiv Sena chief Bal Thackeray passed away last month. After his demise, a tussle between the Shiv Sena and the State, followed by the Shiv Sena and other parties, including the MNS, started over, of all things, a memorial to the late leader.
A makeshift memorial was erected at Shivaji Park for Thackeray's followers to pay respects to him before he was cremated at the Park itself. The State had given permission for the memorial on the understanding that the Shiv Sena would have it removed just days after it had served its purpose.
However, the days passed by and the Sena made no move to remove the memorial. Senior Sena leaders such as party spokesperson and Rajya Sabha MP Sanjay Raut expressed the opinion that the memorial be allowed to stay, in fact, a permanent memorial to Thackeray be built at the spotThe State then gave Brihanmumbai Municipal Corporation (BMC) chief Sitaram Kunte orders to have the memorial removed. That only riled the Sena more – the party threatened that if the memorial was touched, there would be a law and order problem in the city.
The Sena-led BMC has also decided to pass a resolution to rename Shivaji Park as 'Shivtirth' in memory of Thackeray. However, the State will have the final say in this matter. Chief Minister Prithviraj Chavan is not amused by the Sena's antics, and has declared that "nobody can take the law in their hands" in the matter.
(Picture courtesy ibnlive.com)