Watch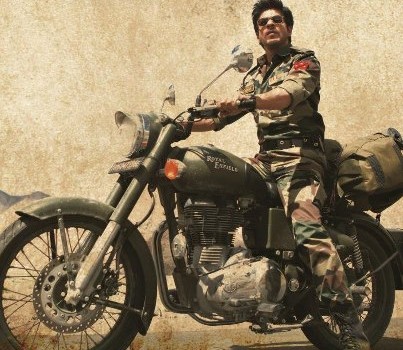 Published on September 30th, 2012
1
'Jab Tak Hai Jaan' trailer
We missed seeing the classic Shahrukh Khan spreading-his-arms trick. Everything else is, well, to put it mildly, just about meh.
by The Diarist
Within a day of it being uploaded on Youtube, the trailor of Yash Chopra's forthcoming film Jab Tak Hai Jaan had garnered 15,533 likes.
We mean, come on!
It's not like this is about to be very revolutionary in terms of plot and treatment. There's Shahrukh Khan, romancing two women (both really, really younger than him) and looking quite the dude on a bike with fuzz on his face. We think he needs to put on some weight first, but it was nice to see him after a long while. We have, naturally, blanked out the disaster that was Ra.One. As far as we are concerned, that film did not happen to us at all. *suppresses shudder*
Interestingly, nobody in the entire trailor says a single line of dialogue, while Shahrukhbhai mouths off some lovely lines throughout. We were very thrilled with this development. We will probably watch this film with a heavy heart when it releases on November 13, owing mostly to leading lady Katrina Kaif's presence in it. And while nothing can be done about her being in the actual film, we are about to throw a party over the joyful blessing of not having to hear her say a word in Hindi at least in the promo. May we reiterate at this point that apart from admitting she is really pretty, we have always been flummoxed by the blankness of her on-screen presence?
We're guessing that in the film, Shahrukh uncle gets jilted by one girl and shacks up with another, the another being Anushka Sharma. We like Anushka a lot, especially how tall she is, and the fact that she is probably playing a news cameraperson (considering how Shahrukh leaps out at her while something explodes just behind them. She is seen holding a camera, which was how we guessed her probable profession.) Meanwhile, Katrina prances about all over the promo looking gorgeous and showing off a pair of toned legs.
Nothing about this promo surprised or stunned us. Well, except for the soundtrack, which is the handiwork of A R Rahman. If we didn't know who the composer was, we would have guessed Salim Suleiman. Yes, that is a broad hint.
All in all, not being diehard Shahrukh Khan or Yash Chopra fans, we were left cold by this one. We're not expecting much from the film, either. And no, we're not ending this piece with a contrived Jab Tak Hai Jaan, Jab Tak Hai Jaan, because we think the film's title is stupid.
The Diarist is a film junkie, and if you're reading this, chances are you are too. If you've noticed a  new promo or film worth checking out, write to The Diarist at thediarist@themetrognome.in.