Watch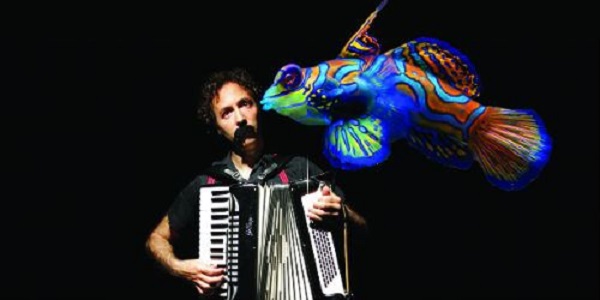 Published on January 3rd, 2015
0
Get a 'Vitamin' shot at the NCPA
The internationally-acclaimed comedy play featuring solo performer Carlo Jacucci is on at the NCPA tomorrow. Do not miss this one.
by The Editors | editor@themetrognome.in
This is good theatre – and it's on in Mumbai, at the NCPA, at 7 pm.
Tomorrow, the internationally-acclaimed 'physical comedy' Vitamin will play at the NCPA. It combines mime, puppetry, live accordion and surreal storytelling. The show has won great critical praise, five-star reviews and wide audience acclaim.
The British Comedy Guide describes the play thus: 'Preaching from a book he never read, he (Jacucci) transforms himself into many characters, creatures and things, from a captain to a dancer, a marathon runner, an accordionist, a caterpillar…
Created in cabarets and variety shows across Europe, Vitamin is an internationally acclaimed physical comedy that combines different styles of contemporary comic theatre into a hilarious and moving performance. It plays with our imagination in fun and surprising ways, through mime, storytelling, dance, puppetry, and the unconventional use of live accordion.
In this physical and musical performance, our host Carlo Jaucci takes us to a fantastic world where inanimate objects are injected with vitality and the normal world becomes a lot less normal. Here he shows us completely unrelated but consistently brilliant sketches that range from the bizarre – 'The Saddest Song in the World' – to the sublime: the existential caterpillar.
A visually inspiring solo show, Vitamin is created and performed by Philippe Gaulier trained clown Carlo Jacucci, with a free and spectacular imagination and an incisive physical language.
Carlo Jacucci trained at École Philippe Gaulier, where he has taught three months a year since 2011. Founder of Artimmediate (2003), with whom he devised and toured internationally seven solo and collective shows, including Baitman, Beesquit,L'Accordeon-eon-eon, Boxette and Losing Venice, Carlo has been employed as actor and clown by many companies, circuses and theatres, including the Théâtre de l'Opprimé of Paris (2002-05) directed by Rui Frati, with whom he performed all over Europe and in Burundi.
(Picture courtesy ncpamumbai.com)