Tech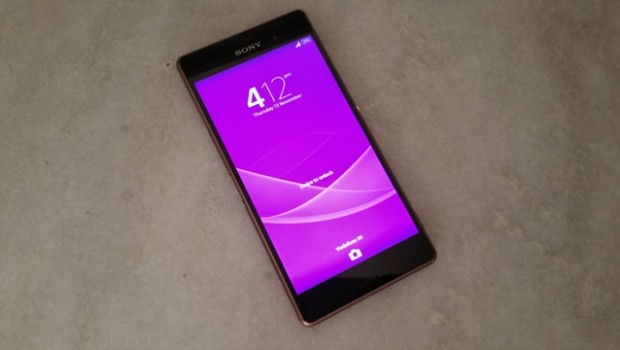 Published on November 18th, 2014
0
Review: Sony Xperia Z3
We check out the new smartphone from the feted Sony Xperia series, the Xperia Z3, and come away very much impressed.
by Manik Kakra | @Manik_K on Twitter
Sony's Xperia Z series of smartphones is known for its good design and decent performance. The company made several improvements going from the original Z to the Z2, and it is expected to do the same with the Z3. Its financial health is far from being in good shape as of the last 18 months or so, and a lot rides on this device (along with a range of other phones) to improve that state of affairs. So, does the Z3 live up to expectations?
Sony's Xperia Z3 (D6553) is the company's latest and best offering. The smartphone follows a similar angular design as its two predecessors, but you will be wrong to say there aren't any changes made. With rubberised angular edges, slightly rounded (yet flatter than the Z2) sides and overall slim profile, the phone is comfortable for those who are already used to carrying large smartphones. The Z3 also has slimmer bezels than the Z2, meaning more body estate for the screen and less in overall length.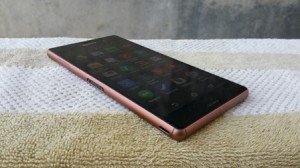 The looks. The front, dominated by the 5.2-inch full HD LCD, has two speaker grills on the screen's top and bottom, with the Sony logo, sensors and the 2.2 MP front-facing camera and LED light. Coming to the right, you have the microSD card slot and nano SIM card slot housed under a single flap, which still feels flimsy but is slightly better to operate than the Z2's, and the Power/ Lock key nearer the middle part, Volume keys, which are smooth to touch and protruding just enough to give you good feedback when pressed gently. The dedicated camera key is located just where your right hand (index finger) would be if holding the phone in landscape orientation, with the on-screen navigation keys on your right.
The left side panel locates the microUSB port (under a similar protective flap), magnetic pogo ports for charging the phone using a Sony magnetic dock or for attaching your PS4's DUALSHOCK Controller to play games. Further down, there is an eyelet for those who still like to carry a thread, a locket, a small cord etc. around their phones these days.
Coming to the back, there's the 20.7 MP camera on the top left with the LED flash right next to it, NFC and Sony logo toward the middle and the Xperia logo towards the bottom. The whole back panel has got glass on top, meaning fewer scratches, but it's prone to smudges and fingerprints just like the front. The phone is by no means a compact device, and it probably isn't meant to be, but there're a few neat little changes that make it just a bit more comfortable to grip and carry around without losing the Z3's premium feel and design, and our copper-brown variant stood out just a little more.
Display and screen. The phone boasts of a 5.2-inch TRILUMINOUS LCD. Sony's Z3 comes with two additional display options – X-Display and Super Vivid mode. With the default mode (third one), the screen is bright, has decent viewing angles and gives nice rich colours for most part. The other two modes aren't really worth it, especially for watching videos where they just over-sharpen characters and the picture loses out a lot. It has a little better visibility than the Z2, but you will have to really crank up the brightness level to read comfortably. The Z3 has a good screen, but it is still not in the league of the One (M8) and the S5, which, in my opinion, are the best 1080p panels for Android phones today.
Having said, it's certainly not a deal-breaker and most users should be fine with it for images, Web browsing and even watching videos.
Camera. The Z3 comes with the same 20.7 MP (BSI sensor) camera (f/2.3) we saw on the Z2. Here are a few sample images
The Z3 supports ISO level of up to 12,800, which is higher than that of any other phone today. Users who are comfortable with trying various settings should find it helpful for low-light conditions. The camera app has a lot of editing modes like Background Defocus, AR Effects, HDR, as well as settings like Exposure, ISO, and resolution. Unfortunately, the camera story is similar to the Z2's which wasn't very impressive. Images come out quite detailed in good light conditions, but noise seems to be a downside when shooting with the Z3. It performs just okay in low-light conditions. You may find taking photos in 8 MP mode better than any other, and most users will find the overall quality to be just fine. For those interested, the phone can also take full HD videos at 60 FPS and 4K videos.
Connectivity. The Z3's GPS, 3G, FM radio work fine, though its WiFi does take 1-2 seconds more to get switched on and connect to a known access point than other phones I've tried recently. Call quality on the phone is top-notch with no network reception issues or call drops in between during my usage. I still haven't tried 4G LTE on a device as there's no network operator offering such a service in Delhi as of now.
Audio quality. In-ear call is loud and clear and so is your voice for the person on the other side. When it comes to audio quality, the Z3 performs well. The front-facing stereo speakers are no match for the One M8's, they are still not bad and usable for videos and games. The phone supports native FLAC files support, but I couldn't check how the bundled headsets perform with it as Sony didn't send us a pair of those.
Battery. It will be safe to say, the Xperia Z3's most compelling offering is its battery life. More often than not, the phone lasted me more than day with battery level still around the 15 per cent mark. During my usage, I didn't have to charge it from zero to full more than once a day except for once when the phone was used intensely for watching videos throughout the day. If on moderate usage, the Z3's 3,100 mAh battery unit may even give you close to one and a half day of usage. And of course, you can stretch it if you use the built-in STAMINA and Ultra STAMINA modes by sacrificing on the phone's features.
Software and performance. The Xperia Z3 runs on Android 4.4.4 with Sony's own Xperia UI on top. The Xperia UI is a known entity on Android space and Sony hasn't much to what it was on the Z2. Sony could have toned down the number of pre-loaded apps and could have made its own services like What's New clear of the Google Now swipe-up gesture, but they haven't.
Under the hood, there is a Snapdragon 801 SoC (2.46 GHz quad-core Krait 400 processor, Adreno 330 GPU) coupled with 3 GB of RAM. There's about 11 GB of available storage space and you can increase it with a microSD card.
It won't be wrong to say that this is Sony's best performing Android phone. The Z3 is smooth to operate, doesn't stutter when switching from one app to another, can handle full HD videos (may miss on audio sync depending on the codec used) and can handle intensive games without dropping many frames. If you have used any of the last two Xperia Z devices, you will feel at home with the Z3's software. With similar Home screen setup, icons, Menu launcher behaviour and settings, Notification bar and quick toggles, Lockscreen, Sony's usual set of widgets and Settings, the Z3 has a familiar monochromatic OS that one often associates with Sony's Android flagships.
The only downside that Sony really needs to cater here is that this phone requires to be attached to a PC to download and install an OS update. It's not acceptable that a technology company like Sony can't provide Over-The-Air updates in this day and age. Having said that, the software and performance part is more than satisfactory, and the whole Xperia package on the Z3 remains one of the best when it comes to Android.
Wrapping our review, the Z3 is one of Sony's best ever devices. With great battery life, good screen, improved design, decent camera and IP68 rating meaning a water-resistant and dust-proof phone, the Z3 is indeed a compelling offering, and if you're looking for a high-end smartphone, you should definitely check the Z3 out.