Tech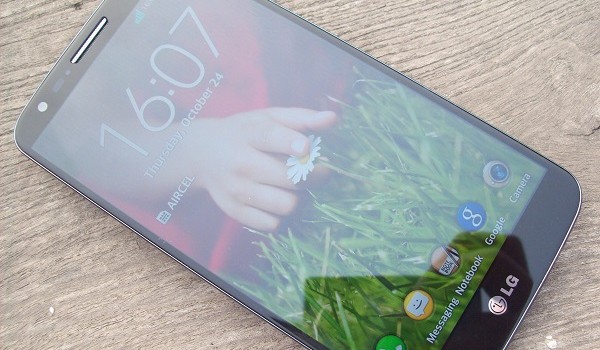 Published on October 29th, 2013
0
Review: The LG G2
Our tech writer has the goods on LG's newest smartphone offering, and what's good and not so great about it.
by Manik Kakra
There is a smartphone race going in the market today, which mainly involves a race for specifications and who's the first to catch the bus. This has been going on awhile. LG has been in the front seat for a bit, but the race is now getting more or less about who capitalises better on their top spot, and whether they provide updates, decent prices, have any standout usable feature or not. LG's G2 is the company's flagship device and is an interesting addition to the Android space. This is our review of the phone.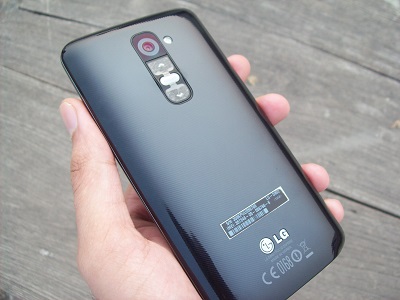 Hardware: The LG G2 is quite a beast when it comes to hardware. Under the hood, there is a 2.3 Ghz quad-core (Krait 400) Snapragon 800 chip that has got Adreno 330 GPU, along with 2 GB of RAM. The back has got a 13 MP camera, plus, the phone's volume rockers as well as Power/Lock button. The front has got a 2.1 MP camera that can do HD videos, and no other buttons on the front side.
Software and Performance: LG's G2 runs on Android 4.2 out of the box, with LG's own Optimus UI on top. The whole software from LG hasn't changed too much. We pretty much get too see the same icons, UI elements, animations, etc. What was new was lock screen customisation – you can now access camera and a widget of your choice by swiping left and right from the lock screen. By default, there are three home screens (as usual all are customisable), make folders, rename them, different icons, widgets and all such known stuff.
You get QuickMemo where you can write down on the screen using your finger, and save them to your notes. Swiping down to get the notification centre, you also get access to all the QSlide apps. These are the apps that support running simultaneously on screen. For instance, you could have calculator running on the screen's upper half, and the stock Web browser on the lower. Pretty handy at times, and it works smoothly.
The phone is smooth, really smooth. I didn't notice any stutters, serious lags or unusual app crashes. The phone feels responsive in day-to-day usage, and doesn't disappoint.
As far as the battery life goes, I was satisfied with what I got from its 3,000 mAh pack. The phone lasted just over a day for me, usually, on a single full charge. The whole chipset and OS combination seems to be doing pretty good to the battery, and it shows in the battery life you get – definitely a plus point for the device.
Design: LG hasn't done anything radical in design. There's the same slab design with plastic in use. On the front, you get a 5.2-inch 1080p screen, and very thin bezel, really nicely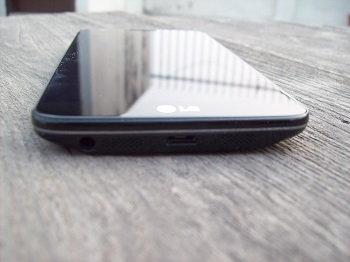 done by LG. In fact, bezels may well be the first thing you notice as soon as you hold this device. The cheap plastic feel is very much evident once you hold the phone on its back.
There is a diagonal line pattern for looks' on the back; there isn't much LG has tried to achieve with the materials used here. To put it bluntly, I'm not at all impressed with the material selection here, while the bezel part is a top-notch approach for a phone this size. On the right side, the SIM tray sits, and there's no other port here. The bottom gets the microUSB port as well as the 3.5 mm headset jack and loudspeakers. Touch buttons are on-screen, and there is only the usual LG logo under the screen. Just above the screen, other than the front-facing camera, you have the sensor, speakers.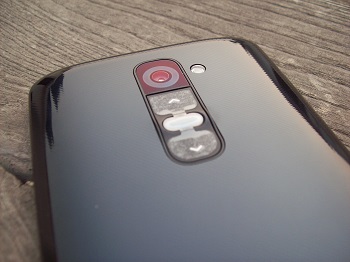 Camera: The G2 comes with a 13 MP camera that can shoot 1080p videos at 60 FPS. The camera has different shooting modes, as usual, and here're a few images (https://app.box.com/s/1u8w9h78llhepy8tspe7) clicked with it. One more thing, I didn't face any focus problems that have been the case with previous LG phone cameras. It's good to see that LG has fixed it. Also, there are options to choose manual focus for a better control over your camera settings.
The camera is pretty good. More or less, you won't be disappointed by its performance, but it could have done a better job with low light condition and without too much sharpness.
Audio: Coming to audio performance, the G2 is a serious phone in this department. It does 24-bit audio recording and playback, and its audio output is very good. You should ideally not be using the bundled earphones. Plug in your own headset par, and you will realise how well the phone drives them. The only downside is on the loudspeakers side. They are loud and clear, but their placement, at the bottom, might well be a problem for those who play a lot of games. Playing in portrait mode means on of your hands covering the loudspeakers and all the sound getting muffled. There were no issues with the phone's call quality, and I didn't notice any network reception problems either.
What's different: Usually your phone has volume buttons on one side and Power/Lock button on the top or on either side, but, here it is different. All those are around the camera sensor. You have to click there to adjust volume (can also be used for the camera), Power and lock screen. LG has also added 'double tap to wake and lock' feature, which was previously seen on Nokia's N9, when on a home screen, you just had to tap the screen twice to lock it and double-tap it again to unlock it. This works for 7 out of 10 items, and is indeed a very handy feature. You might just start doing it once you get another phone, and miss this feature on it. At least I did, and I certainly liked the double-tap feature. But not so much the buttons placements, I hardly ever pressed the right button on the back accurately, and found it cumbersome when the phone was actually placed somewhere and you can't adjust the volume from either sides.
The best part: Let's take a look at the full HD IPS (423 ppi) used here. In my opinion, this is the best part about this LG phone. And that isn't very surprising considering LG has been consistently coming out with great screens for the last year or so. The screen is very bright, colours seem rich and it has got decent viewing angles. Watching a full HD video on it, on the go, is a treat. It is coated with Gorilla Glass 32, which is a bit noticeable once you closely look at the sides of the screen – it appears pretty nice, though.
What could be better: While LG's skin is lightweight, it is far from stock Android designs, and you have to really dig to see if they have left any part of the OS untouched. A few additions to the whole stock Android experience are definitely needed – camera, QSlide apps – many changes could be avoided, but then that's what custom Uis bring to the table.
All in all, LG has done a really good job with the G2. It is good to see more and more manufacturers realising that battery life, camera optics, software enhancements are important. The screen, battery life and audio are its best part, the only things the G2 falls short are its material choices and it could probably do with a little less customisation on the Optimus UI side.