Film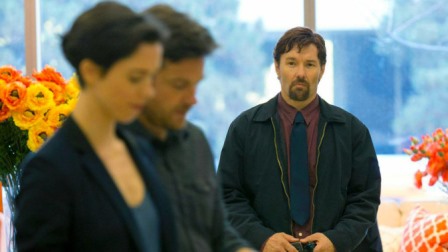 Published on August 24th, 2015
0
Review: The Gift
Lovers of suspense and psychological thriller stories will find themselves hooked right from start to finish of this great little film.
by Ravi Shet
Rating: 3.5 out of 5
At long last, a good suspense thriller has hit the theatres.
The Gift is the story of Simon (Jason Bateman) and Robyn Callen (Rebecca Hall), a married couple living in California. They leave Chicago and their miseries to start a new life. While purchasing things for their new home, they meet Gordo (Joel Edgerton), Simon's former high school classmate. Simon is unable to recall Gordo from school. Gordo starts visiting the couple's place, mostly when Simon is at work, leaving gifts such as a wine bottle, glass cleaner, koi fish.
He then invites the couple to his home. Within few minutes of their arrival, Gordo gets a phone call and he drives off saying that he will back within five minutes. In Gordo's absence, Simon makes fun of him and explores the house with Robyn. When Gordo returns, he tells the couple that his wife left him along with children. Simon ends his friendship with Gordo and tells him to not visit their home.
Next day, the couple's dog is missing and koi fish in their pond are mysteriously dead, which makes Simon suspicious of Gordo. He goes to Gordo's home and finds out that the latter has never lived there. He then involves the police; however there is no evidence of any wrongdoing. Slowly the couple realizes that most of the things Gordo told them were untrue Robyn starts suspecting that she is not living alone in her home when Simon is at work.
The pace of the movie is well maintained by Edgerton, who is the writer and director as well. The camerawork by Eduard Grau is top notch, and sounds have been used to great effect throughout the film. The climax of the movie is well done, backed by Gordon's mysterious gifts. Jason Bateman, Rebecca Hall and Joel Edgerton deliver great performances in their respective roles.
If you like chills and thrills, this is a must-watch.
(Picture courtesy variety.com)