Film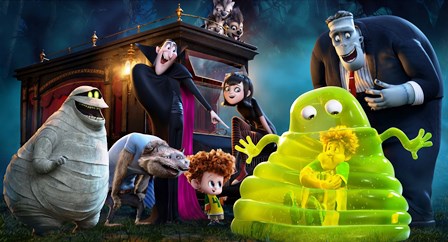 Published on November 8th, 2015
0
Review: Hotel Transylvania 2
This week's release is a sequel to 'Hotel Transylvania', an animated monster comedy that children will surely love to watch.
by Ravi Shet
Rating: 3 out of 5
This one is an ideal Diwali entertainer for the little ones: it combines animation, a story about 'fitting in' and vampires in the age of the Internet.
With the approval of her father Count Dracula (voiced by Adam Sandler), vampire Mavis (Selena Gomez) gets married to the human Johnny (Andy Samberg). Mavis gives birth to a son named Dennis, but Dracula worries that his grandson might not gain vampire powers, since he is approaching his fifth birthday and still has not sprouted fangs. Mavis wants to raise her son in the land where Johnny grew up, but her father wishes to transform his grandson into a blood thirsty vampire.
Dracula devises a plan to 'babysit' Dennis – he wants to train him into vampirehood with the help of his friends – Wayne the Werewolf (Steve Buscemi), Frankenstein (Kevin James), Murray the Mummy (Keegan Michael Key), Griffin the Invisible Man (David Spade) and Blobby the Blob (Jonny Solomon).
Dracula takes little Dennis to the summer camp where he perfected his own vampire abilities, only to get disappointed on learning that the camp is no longer as dangerous as it was in the past. In desperation, Dracula flings Dennis from a tall tower to force his transformation into a bat, but rescues him at the last moment. This incident is captured by campers and is uploaded on the Internet. The clip reaches Mavis and Johnny who immediately rush to Transylvania – Mavis makes the journey as a bat carrying Johnny because there are no flights to Transylvania available.
A stellar cast is ably supported by fast paced action, excellent animation and witty dialogue. Adam Sandler is the most impressive as Dracula. The film has many LOL moments and will do well with children.
(Picture courtesy www.forbes.com)