Film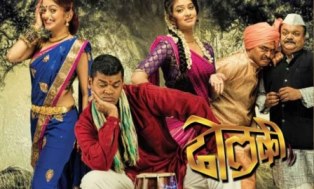 Published on September 2nd, 2015
1
Review: Dholki
A man who produces dholki notes with his bare hands? This film has an interesting story marred by boring execution.
by Ravi Shet
Rating: 2.5 out of 5
Dholki, directed by Raju and Vishal Desai, is a comedy drama set in a village in Maharashtra. The film starts with a bhajan in a temple where villagers from different sections have come together. Lalya (Siddharth Jadhav) who has come with his mother (Jyoti Chandekar) is seen sleeping in the temple premises; however villagers rouse him. He prays to God and tells to forgive the villagers, since they have awakened him and God. Lalya is a lazy man, often referred to as 'Kumbhakaran' by the villagers; however he is also honest and straightforward. His mother tells the villagers that he has no job at hand, so she doesn't mind if he sleeps all the time.
Wealthy Patil (Sayaji Shinde) of the village tries to get Lalya a job in the school. The head master of the school tells Lalya to produce his education certificate so that he can give him a job. While searching for the certificate at his home, he accidentally finds a dholki that belonged to his late father. Initially, he is puzzled to see the dholki, however he enjoys playing it. On hearing the sound, his mother intervenes and makes him promise never to touch it again.
After this, Lalya becomes aware of a special power in his hands – when he hits a surface, one can hear a dholki play in lavani style. On his mother's advice, he starts practicing on the dholki for bhajans; however the moment his hands touch it, the dholki produces lavani notes. At this juncture, the good looking Lalibai (Manasi Naik) who owns a tamasha group is impressed by Lalya's talent and gets him to join their shows.
The first half of the film is paced well, but the second half falls flat. Redeeming factors are the music by Tubby Parikh and cinematography by Rahul Jadhav. Siddharth Jadhav does an excellent job and carries the film on his shoulders. Other than these, there is little to recommend in this film.
(Picture courtesy www.marathidhamaal.com)