Learn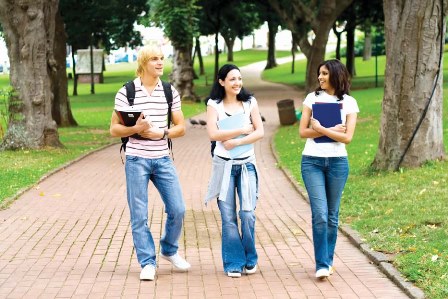 Published on September 2nd, 2015
0
All in one preparation for study abroad
Are you planning to study abroad? Read on to know a few rules for cracking the admissions and moving process.
by Adarsh Khandelwal, Co-founder, Collegify
In recent years, studying abroad has become an increasingly attractive option. While many dream about it, only a few make these dreams a reality.
Planning is the key to the entire process. One can significantly increase his chances of making it to a great university abroad by simply focusing on the right things at the right times. There's no point of spreading oneself out too thin and resorting to multiple sources at once. You are only likely to be overwhelmed and confused with all that comes toward you. The first thing you need to do is gauge whether a foreign education is for you – academically and otherwise.
Do your research
Talk to students, alumni and possibly professors from the institutions you are considering to acquire an understanding of what you might be getting yourself into. Accordingly, gauge whether you would be interested in pursuing the option further. Next, talk to your parents and make your goals and plans clear to them while explaining to them the details, merits and demerits of the programs. You and your family need to take a hard look at yourselves financially and ascertain whether you will require external financial assistance or not.
Find professional help
Now that you're firm on studying abroad, you need to strategise. For this, find an educational consultant who understands you and your goals and is committed to helping you realise them. The ideal counsellor will give you a comprehensive understanding of the application process, help you identify the best institutions for you, and assist you with the preparation of a timeline for standardized tests (SATs, GRE, GMAT, LSAT, TOEFL, IELTS, etc.) and essays. Prepare well for the standardised tests but account for time that may be required for a second or third attempt (with high costs, you should look to avoid them as much as possible). Essays are a crucial component of the application and you will need time to write and perfect multiple drafts.
Build your profile
Universities abroad seek holistically developed individuals, so you're going to need a lot more than just good test scores and recommendations. You will need to start building your profile from a young age by pursuing your strengths and interests. A typical profile includes project work, summer internships, extra-curricular activities and volunteer work. If you already know where you want to go professionally, you could also start networking with individuals in the industry to understand the skill set required to succeed and begin working on developing those skills. This could help you land valuable summer internships in college that could lead to full-time jobs upon graduation.
The application process
Understand the details of the application process very well. Sometimes, colleges have nuanced differences in their application processes that might need to customise your application accordingly.
Help your school/college understand how to draft transcripts and recommendation letter that would portray you in the best possible light. Don't hesitate to contact admissions committees with doubts. They are always happy to help and might even share information that may not be on their websites. Not just that, you might also gain an edge over competition by creating some recall value for your self in the committee.
Work on your applications in such a way that you have a month's time to go over all your details and possibly edit some essays as well. Once satisfied with your work, compile all documents and mail them out or submit them online well in advance of the deadline. An early submission of an application gives you a better chance of being interviewed and sharing a side of yourself you were unable to in the applications. Also, if you achieve or do something significant in the period between submission and decisions, make sure you contact the admissions office and update them.
Once the course begins
Don't be too hard on yourself when it comes to adjusting socially and making friends. Try – as much as possible – to be yourself. The more you try to put up an appearance, the more awkward and different you will appear to others. It's okay if you're not dressed like everyone else, or not in the popular clique. Relationships take time to develop and you can't expect to forge ties like the ones you had with your friends back home within weeks.
Studying abroad is not about the fun, games, glitz and glamour of being in a first-world country. It is a serious life decision. You're there for a reason – to grow to become an independent and resilient individual and push yourself to discover and realise the potential that may have never known you had. It is a once-in- a-lifetime opportunity offering exciting experiences ranging from learning about new cultures, speaking a new language, making new friends from diverse socio-economic,political and ethnic backgrounds, to discussing issues you might never have considered. With each of them, you can discover a new side of yourself, but it's down to you to seize every moment.
(Picture courtesy www.youthincmag.com. Image is used for representational purpose only)