Film
Published on January 22nd, 2013
1
A businessman who acts in films
Mithun Rodwittiya is not a struggling actor – he 'chose' to do 'Inkaar', and is looking for serious, sensible roles.
Our idea of what a first film role means to an actor generally follows a formula popularised by masala entertainers of the 80s: the would-be actor leaves his hometown and comes to Mumbai following a film dream, lives with friends and survives on wada pav and chai, does the rounds of producers' offices and waits years for the elusive break. When the break comes, he is older, wiser, and an instant hit.
Mithun Rodwittiya's road to Bollywood was the exact opposite of this filmi roadmap. The Malad resident got a role in the Arjun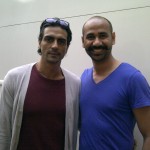 Rampal-Chitrangada Singh release Inkaar after a fruitful stint in modelling. A successful feature and ramp model for about eight years now, Mithun (34) has worked with a lot of big brands in the country and has shot numerous TVCs, apart from walking the ramp for several top designers in their fashion shows. "I became very interested in pursuing a film career after I watched Kaminey," he tells The Metrognome. "I watched the film and I kept thinking, 'Hey, I want to do this…'"
However, the desire to face the camera had always been there, even before he decided to take the Bollywood plunge. "Shooting for TV commercials helped me understand the techniques of shooting. Also, I realised that I was very comfortable in front of the camera," Mithun says. His first TVC was for Tata Indicom. "It was an interesting experience for me – you work with 80 to 90 people on the set, you have to fit within a role set out for you," he explains, adding that facing the camera was something he consciously pushed himself into.
"I used to have stage fright as a child. So facing the camera was not something I set out to achieve as a personal challenge. I was simply curious to know what the process would be like for me," he explains.
When Inkaar happened
"I had been working with some brilliant casting directors, and one of them was Nalini Rathnam, who excels at fitting an actor with the right role. I have a certain sensibility in film, and Nalini understands it. She told me about this role in a Sudhir Mishra film, where I would play a small but crucial role as the CEO of the ad agency's biggest client. I was happy to accept," Mithun says.
His role, though a small one that required just three days of shooting in Mumbai, proved to be a tremendous learning experience for him. "See, I'm in this out of a choice I made. I run a business and ideally, I want to be able to balance my work and films," he says, explaining that he is an NID alumnus. "People on the set were stunned to know that I was from NID, that I had something to work on apart from the role I was playing in the film. A lot of people don't have that. I decided to be a part of Inkaar because I would get to work with stalwarts like Sudhir Mishra and Deepti Naval."
He says that Sudhir Mishra is "a taskmaster," but a man with commendable clarity. "He knows exactly what he wants, right down to the most minute details on the set. But he is very approachable, and though I have no formal training in acting, he was very helpful and accommodating. He knows how to use his actors."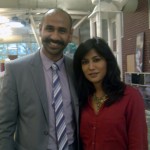 How was it working with the cast? "Of all of them, I enjoyed working with Chitrangda Singh the most," he says. "She is an extremely intelligent lady who takes her work seriously and is such a wonderful person to work with and be around."
Now that Inkaar's in the theatres and Mithun's being recognised, he's also receiving offers for roles in what he calls "the same kind of cinema as Inkaar." He explains, "I don't see myself running around in a field of sunflowers. I identify with the kind of roles that actors like Pankaj Kapur, Abhay Deol and Irfaan do. Since there is no pressure on me to accept any and every work that comes my way, I can choose the kind of roles I would be happiest doing," he says.
He is now awaiting the release of his next film, in which he plays one of the leads. "It's a comedy and it's a good role," he says. And does he see himself getting into acting full-time? "At this point, I'd have to say maybe, but ideally I'd like to always be in a position to choose to do films. I chose Inkaar because I knew that I would have dialogues and screen time with Deepti Naval, Arjun Rampal, Mohan Kapur. It's not about the length of the role for me," he says.
(Pictures courtesy Mithun Rodwittiya)