Event
Published on January 22nd, 2015
0
Mumbai gets a new film club, courtesy Osianama
Two new clubs – for cinema and vintage automobiles – come to Mumbai, with a premiere of Hindi film 'Baby'.
by The Editors | editor@themetrognome.in
After months of deliberation, Mumbai has finally been chosen as the first venue for Osianama, India's pioneering cultural centre, with the launch of the first two (of nine) clubs focusing on Indian and world cinema, and vintage and classic automobiles, at the iconic art-deco Liberty Cinema.
Tomorrow, January 23, will see Osianama inaugurate the film 'club', titled 'Cinefan' with the premiere of Neeraj Pandey's film, Baby. On Sunday, January 25, Pandey and the film's lead actor Anupam Kher will also conduct a masterclass for film enthusiasts and students.
Osianama plans to be the nerve-centre for the exhibition, edutainment, screening and knowledge for the arts, auto, cinema, culture and the preservation of its heritage. It complements the vast emerging online knowledgebase – osianama.com – "to rebuild the educational global platform for India's cultural civilisation".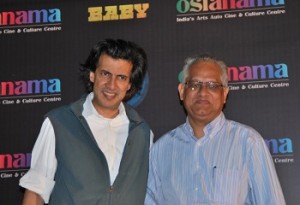 Neville Tuli, Chairman of Osianama, states that Osianama embraces nine membership-driven cultural clubs under its umbrella which will be inaugurated step by step between January 2015 and March 2016. The Osianama 'clubs' are Vintage and Classic Automobiles; Cinefan; Antiquities and Fine Arts Appreciation; Books and Poetry; Photography; Architectural Heritage and Preservation; All Creatures Great and Small and Animal Welfare; Design, Craft and Popular Cultures, and Sporting Heritage.
"Osianama is starting with the launch of the first two clubs immediately, followed by the Fine Arts Club and Books and Poetry Club in April, when our activities begin on a daily basis," Tuli explains.
The Osianama Cinefan Club will host premieres of over 50 top quality films from India and the best of world cinema in its first year. It will also organise 12 major exhibitions (such as On Orson Welles, Clark Gable, Marlon Brando, Charlie Chaplin, Buster Keaton, the Marx Brothers, etc. apart from exhibiting Polish poster design from the 1950-70s, Japanese aesthetics and the Samurai, Sci-Fi and horror designs of the 1950-60s, and also host related discussions, master classes and debates with a focus on Hollywood, Indian and world cinema.
Tuli says, "This has been a pivotal institutional step of one's vision for the past 20 years. Few, if any, cultural institutions, have been built in this world with such independence from patronage, sponsorship and donations. We have always envisaged art, culture and its heritage as India's greatest assets which will balance and nurture both economic and religious forces once having built its own material infrastructure with daily financial independence."