Do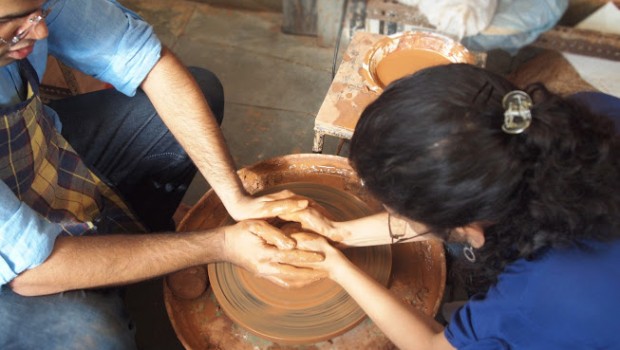 Published on April 3rd, 2013
0
This Bulb has some bright ideas
Blue Bulb acquaints you with fun, sometimes OTT things to do. If you're a Mumbaikar, you can de-stress with them.
by Medha Kulkarni
"Malls, cafes and bars. Meh. What else is there to do in Mumbai on weekends?"
An oft-heard lament of most of the regular office-going crowd who are too busy to do anything during the week, weekends become repetitive after a while. Joining structured classes, say for dance or art etc. is out of the question for mumbaikers, as work hours are long and erratic. This is precisely the problem that the founders of Blue Bulb saw and sought to fix it.
This is precisely the gap that Blue Bulb seeks to fill. Started in 2011 by Mumbai-based Regan Rodricks, Blue Bulb is a company that offers people in the city a plethora of things to do. They organise sessions for everything from hula hooping to Parkour to pottery and beyond. Most of these sessions are spread over a weekend, lasting from a few hours to an entire day, depending on the activity, and are designed to be taster or introductory sessions that give you the chance to try something new. Blue Bulb organises special activities for children and even has packages for couples. The best part about it? They're all totally affordable!
"We look out for people doing interesting things and then try to see if more people would be interested in doing something like this. For example, I was introduced to a professional fire breather at a party. We got talking and before I knew it, I was on the terrace with fuel in my mouth about to breathe fire. And that's how the Fire Breathing Experience became part of Blue Bulb. We also get contacted by instructors wanting to be part of Blue Bulb. But every experience and instructor is first tried by us to ensure quality. Our experience partners are individual instructors, clubs and professional performers who do this activity for a living," Regan explains.
With over 50+ activities on at the moment (excluding a dozen-odd that they have as one-offs, such as the Hula hoop workshop) what is the most popular activity offered? "One of the most interesting experiences is the 1 Day Paragliding Training. We take absolute beginners, people who have never seen a paraglider before, and by 3 pm, they are flying on their own at 800 feet!" Regan says.
However, sometimes it can get difficult dealing with demanding customers. He recollects a parent who wanted to enrol their 10-year-old child for fire spinning. "We politely refused," says he. "We get the most outrageous demands from parents, especially in the summer vacations. "
Priced in an affordable range, the rates vary depending on the activity. "But as a rule, we say 'How much would you spend on a Saturday evening?' and try to keep the price in that range. Ordinarily, a movie, popcorn and dinner would set you back by Rs 1,500/-. But most of our experiences cost less than that. And honestly, you will forget what you ordered for dinner a month ago. But you won't forget the day you made your first clay pot or learnt to drive a bullock cart."
For kids, they have a number of interesting sports like rock climbing, archery, and golf, and experiences like the cupcake workshop, doughnut baker experience, pottery, etc. One of Blue Bulb's new experiences is the Pilot Simulator, where kids learn to fly a jet plane in an actual plane simulator. The simulator is a stationary cockpit which pilots use for training.
Each session is conducted by a trained professional and the team at Blue Bulb is very thorough and ensures that your experience lacks nothing. What I liked best about the way Blue Bulb organises these sessions is that they are never overbooked. Despite the steadily increasing demand, Blue bulb continues to retain its 'First come, first serve' policy and stick to their cutoff. This is good because a limited number of people per class means more personalised attention from the instructor and puts lesser pressure on resources.
Book an activity or experience with Blue Bulb here.
(Pictures courtesy Blue Bulb)