Do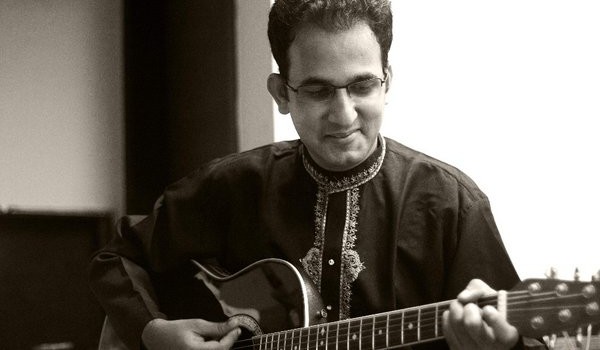 Published on November 26th, 2012
0
Get guitar lessons at your workplace
Rajendra Vallary will give you lessons if your office agrees. Once a week for six months, learn and play away.
Rajendra Vallury (30) is a genius with the guitar. But merely having a skill is not enough – one has to do something with it. And Rajendra has a great plan – if your office management agrees, he can come to your place of work once a week for six months and teach you how to play the guitar.
The self-taught guitarist, who has worked with singer Hariharan and currently learns from musician Chintu Singh, tells The Metrognome, "I have taught people (to play the guitar) who are in the 55 to 60 age bracket, and they all said that they wanted to learn to play in their childhood, but that they never got the chance. This got me thinking – there must be others like them who would want to learn but who can't, owing to lack of time."
Rajendra decided that the one thing that stops people from enrolling for guitar classes is that they work long hours and there's never any spare time after gruelling work schedules and long home commutes. "So I thought: why not take guitar lessons to their workplace? It would save them time, give them a break to de-stress, and help them bond better with their colleagues as they all played and practiced together," he explains.
He reasons that many companies set time aside for activities like yoga and salsa, but there's not much effort spent on getting music in. "There is an increased interest in playing the guitar. While collegians want to learn the most, I find that many of them want to fool around with the guitar to look cool. The most dedicated learners come from the 40 to 50 years age group – they listen to good music, have a set taste, they're learning out of a genuine interest, and most of them love to go home and play to their wives and husbands!"
Rajendra's module is simple and flexible: you can choose to have a class once or twice a week, for an hour per session. "I have divided the programme into 24 sessions in all, and since the activity is meant to de-stress the students, they have the option of picking the songs they want to learn," he explains. During the session, he teaches students on getting to know the instrument, various musical terms, finger training, various chords and their positions, and scales and melodies. "At the end, students can showcase what they're learnt with a small performance," he says.
More than enthusiasm, however, Rajendra says he stresses on practice at home and carrying your own guitar to learn on. "Even though the exercise is aimed at relaxing and having fun, you still have to go home and practice before the next class," he says.
Rajendra Vallury has been giving guitar lessons for 10 years now and has taught over 1,500 people till date. Write to him at rajendravallury@gmail.com for details on corporate guitar lessons.