Do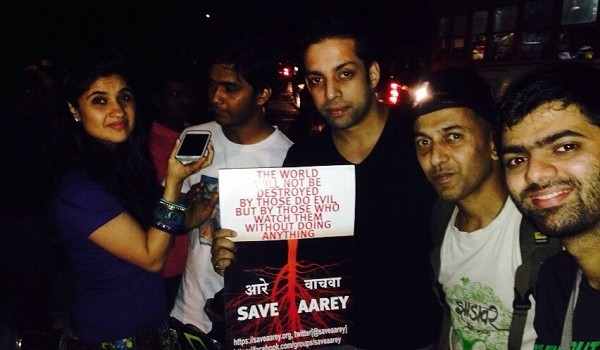 Published on March 19th, 2015
1
Aarey says 'Bachao!'
An RJ with Radio City writes about her station's ongoing campaign to save Mumbai's prized green lung – Aarey colony.
by Archana Pania
Mumbai has two sacrosanct areas that are green covers of the city, Mahim Nature Park and Sanjay Gandhi National Park. The third could have would have been Äarey Forest, but too many have settled in, tried to make it a residential area, while forest retreat hotels have been built therein and very little has been done to maintain the sanctity of the park.
Since its high connectivity to the western suburbs and Powai, the idea of making it pivotal to the real estate agents who look for lands like vultures look for rodents, Aarey is being eyed as the next hub for commercial office space generation, a large residential base and the Metro Phase III shed to be built into!
At the Radio City morning show 'Kasa kai Mumbai', we are huge supporters of progress in Mumbai and we want the city to converted into a world class city – but not at the cost of losing the green lungs of the city! "If Aarey colony's 2,000+ trees are cut, I am going to leave Mumbai!" said one of our listeners! Hence, if we don't raise our voices in support of  the trees now, we shall lose the most bio-diverse green cover Mumbai has.
Jackie Shroff, singer Shaan, Dia Mirza and many eminent personalities are all for green cover in Mumbai, and it's time we show respect to nature, as opposed to 'development' in the name of progress and take the green cover away. Singer, lyricist, actor, composer Piyush Misra said "A sign of a progressive city is their parks…closer to home, there is Chandigarh or Hyde Park in London…"
Yes, we lost parts of Mulund and the Powai forest to builders, but the least we can do is save whatever is left and help make a clean and green Mumbai – but this seems only to be a text on hoardings, rather than a movement in action!|
Hence, 'Radio City ki Treety' is a campaign where a lot of commoner, where our radio jockeys, Sucharita, Sudarshan, Rohitvir and Gaurav, apart from others, extended their audio signatures on our TREEty!
Join in today, Mumbai. Log on to www.saveaarey.org or simply go to their Facebook page (saveaarey) and make your intent heard. We want our children to carry school bags to school, not oxygen cylinders!
Archana Pania hosts the morning show 'Kasa kai Mumbai with Salil and Archana' on Radio City 91.1 along with RJ Salil Acharya. She has been actively campaigning for the cause of saving Aarey. 
What do you want to do to save Aarey? Tell us in the comments section below.