Places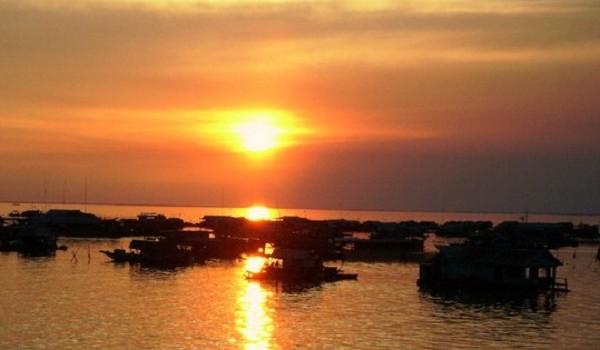 Published on July 8th, 2014
0
Cambodian surprise
A Mumbaikar goes off the beaten path to Cambodia, and comes away impressed by its friendly people and overall beauty.
by Sujata Garimella
Who hasn't been fascinated by the exquisitely wild temples in Lara Croft: The Tomb Raider? Cambodia captured the world's imagination with that movie. Angelina Jolie did more for making the country known than any other person not only via the movie but also by her high-profile adoption of a Cambodian boy (Maddox) around that time. Having got on to the international consciousness, Cambodia got a further fillip with the United Nations and their work with landmine victims/survivors in the country. This was publicity, albeit of the unsavoury kind – but hey, no news is bad news. Between these two, Cambodia became a beacon for the adventure-hungry and the sympathy-pourers and soon became the world's most visited 'off-beat' destination.
My fascination with Cambodia started a few decades earlier, with the cover of a Reader's Digest Travel book. The cover had a huge stone structure of a face facing four directions. Having noted that this was in Cambodia, the country piqued my interest. Over the years, other tidbits flowed into my consciousness: Angkor Wat in Cambodia was a Hindu Temple; Angkor Wat is the largest Hindu Temple complex and monument in the world; Angkor Wat is not only the largest Hindu Temple complex and monument, it is also the largest religious complex and monument in the world. Yes, most of the nuggets had to do with Angkor Wat but what was even more curious was: how did Hinduism find its way to such a distant land without war or occupation?
A visit to Cambodia was on the top of my bucket list, for sure. When this happened, it was probably the most exciting trip of my life. Since I was travelling with my mother, I went there not as a traveller but as a tourist i.e. it was not a backpacking-adventure-exploration kind of trip, but a planned, comfortable one.
Getting there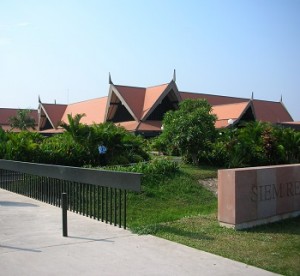 Disembarking at Siam Reap, where Angkor Wat is, was thrilling. It helped that the airport was built in a quaint fashion instead of the normal tall steel-and-glass buildings (see pic on left). It is also at the airport that I got to know that Cambodia offers visa on arrival. (Since these rules keep changing it is best to recheck before you visit and always safer to travel with a visa from your home country.)
Checking into the hotel was pain-free and the Cambodians were refreshingly friendly. With tourism being the mainstay of the economy of Siam Reap, most people speak English and are very welcoming of tourists. The downside of any place existing on tourism (whether Cambodia or Egypt) is the expectation and tacit demand for tips. Be prepared and be ready. While you can exchange dollars for the local currency (Riel) at the airport, Cambodians always quote prices in dollars to tourists. In fact, they shy away from accepting their local currency from tourists.
Discovering the place
There was only half a day left after check-in and negotiation with a tourist guide-cum-driver for hiring the car for the entire duration of the stay so visiting the temples was out for that day. On probing, the driver mentioned a floating village that we could visit. At a cost of $30 dollars (a rip-off because I have since learnt that this is available for $15) we were set. Reaching the embarkation point, we were given a huge boat. The boatman also doubled as a guide and we set off in a narrow waterway.
The 'lake' was a narrow-gauge waterway; the water, brown and dirty. The boatman pointed out a floating school and a floating basketball court. Just when we were laughing at ourselves and the 'floating village' that we were passing by the water opened up into a vast, seemingly endless water body – the Tonle Sap Great Lake Basin. It was a breathtaking sight. Tonle Sap is the largest freshwater lake in Southeast Asia. The boatman claimed that this lake was fed by rivers from three countries. While this may not be entirely true, it is a fact that its upstream drainage basin spans five countries. He pointed out a notional line in the water (like our Mac Mohan Line with China) stating that from that point it was Vietnam.
We glided through a village in the water complete with houses, stores, a restaurant and a church in speechless wonder. The villagers used coracles or large plastic and aluminium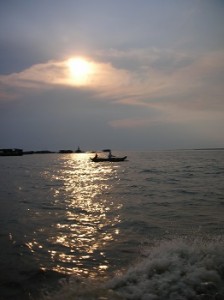 bowls as their medium of transport. Since we were there in the evening, we were treated to a wonderful sunset, too. On the return journey, the narrow waterway didn't seem as dirty anymore – the human mind surely is wonderful!
Disembarking brought another surprise. Three or four people swarmed around us with saucer-pictures of us. They took our pictures between the time we got off and to the point we set off, chose the ones that were most clear and printed them on the saucers by the time we came back. Since this was a novelty to me, after some hard bargaining, I bought all three for about $4.
While Angkor Wat, Bayon and the outstanding temple of the tree are spectacular, a trip to Siam Reap would be incomplete without a visit to Tonle Sap – it is a hidden jewel.
Have you recently taken a trip to a place you always dreamed of going to? Tell us about it at editor@themetrognome.in.
(Pictures courtesy Sujata Garimella)