Deal with it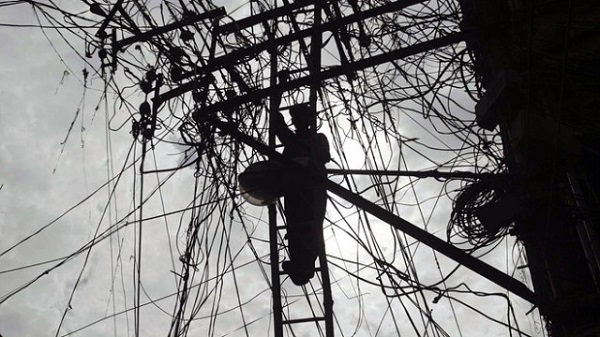 Published on September 1st, 2014
0
Stop power thefts: Mumbaikars write to police chief
Residents from the F-North ward have written to Police Commissioner Rakesh Maria exhorting him to stop power thefts during festivals.
by The Editors | editor@themetrognome.in
Irked by frequent instances of power thefts from public utilities, a group of residents from F-North ward have dashed off a letter to Mumbai Police chief Rakesh Maria. The letter appreciates his latest order to Ganpati mandals not to steal power from light poles or other public utilities, and entreats him to be as strict with other instances of theft also.
In the letter, written by Sion-based activist GR Vora on behalf of F-North ward residents, the group has asked Maria to issue instructions that proper vigil be maintained even during celebrations like Eid, Navratri and other festivals, to ensure that power is not stolen. Additionally, the letter exhorts the police to nab hawkers taking power from residential housing societies for their illegal stalls or businesses. Interestingly, these residents have asked for a dedicated helpline that citizens can use to report power thefts.
The letter is reproduced below:
'Dated: 23.8.2014
To,
Police Commissioner (Mr Rakesh Maria),
Police Commissioner's Office, L T Marg,
Mumbai – 400002
Sub. :–  Electricity thefts from public utilities (street-light poles, residential buildings etc) by organisers of functions on our roads, footpaths and other open spaces.
Ref. :–
Police Commissioner's meeting with BEST officials in response to the Public Interest Litigation (PIL) filed by Mr Ketan Tirodkar against power thefts by Ganesh Utsav Mandals.
TOI newsitem dated 23.8.2014, on page 11, titled "Mandals told to refrain from stealing power for Ganapati" (copy enclosed)
Dear Sir,
This is to compliment you for warning Ganesh Utsav Mandals against stealing electricity from public amenities (street-light poles etc) during Ganesh Utsav celebrations.
But we wish to bring to your notice that during other celebrations too, such as Shivaji Jayanti, Ramzan Id, Navratri etc. and festivals of several other religious groups, electricity is stolen from our street-light poles and from residential buildings for lighting their pandals and other light decorations.  Also, unauthorised hawkers steal electricity from our light poles or illegally take power-extensions from domestic users (like homes, housing societies etc) and steal it for lighting their stalls/bakadas. Please note that usage of power from domestic CHS sources too should not be permitted as it is used for commercial purpose.
So we urge you and all other members of the Vigilance Cell (i.e. Police Commissioner, Chief Security Officer (BEST), Chief Vigilance Officer of BEST – Electrical and the Deputy Commissioner of Police (Operations) ) to kindly keep vigil on all such violators and take immediate stringent penal action against them as it is a burden upon all other citizens who have to pay frequent increase in tariffs for power usage.
Sir, it would be highly worthwhile if a telephone helpline is initiated for citizens to report such power thefts directly to the Vigilance Cell, so that prompt action can be taken against the people who steal power.
We would appreciate if you could inform us of the action taken on our complaint and suggestions.
Thanking you.
Sd/-   GR Vora
For all members of F-North ward Citizens Federation.'
What do you think of the power theft issue in Mumbai? Tell us your views in the comments section below.
(Image used for representational purpose only)