Diaries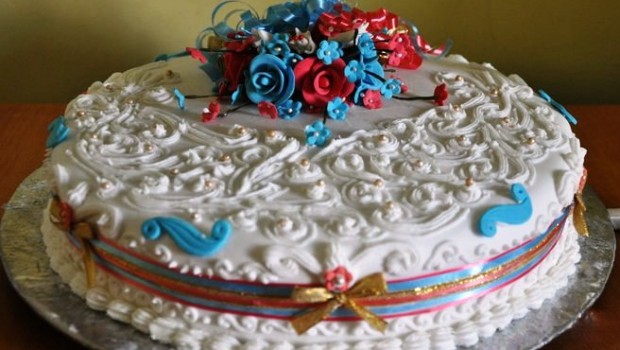 Published on November 3rd, 2012
0
Let them eat cake
Give a miss to the shaadi ka laddoo – bite into the trendiest cakes that Mumbai bakers have to offer.
by Ritika Bhandari
Part II of the 'Shaadi Mubarak' Diaries
When American cartoonist James Thurber said, "The most dangerous food is the wedding cake," little did he know that a three-tier, rich plum cake is a delicacy not to be missed for the world. Borrowing from the traditional White Wedding concept of Christian weddings, today several Mumbai couples are opting to cut a beautifully-decorated cake to spread the sweetness of their wedding.
Every function, from a sangeet sandhya to a cocktail party, calls for a cake these days, and definitely, the D-day is when out comes a special, unique, satiny rich cake covered with fondants and marzipans. Aditi Limaye Kamat of The Cake Studio, Dadar, says, "Indian weddings have started to give a lot of importance to cakes. Earlier, we would get requests only for church weddings. But now it is definitely changing."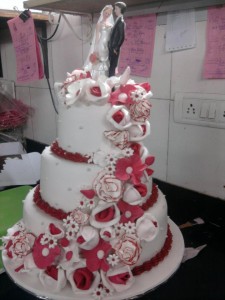 Aditi is the co-owner of The Cake Studio along with cake decorator, Niketa Patil Rampal. "Niketa is the reason for our good looking and tasty cakes," says Aditi. "Her chocolate cakes with truffles or cream icing are really famous, but the cakes with marzipan can be decorated more beautifully. We can create designs like flowers, couple figures and also add food colours like pink, blue, gold and silver." Along with the cake's looks, Aditi stresses on the taste as well, because the Big Fat Indian Wedding has to be a palate-pleaser.
22-year old Sonica Baptist runs Crimsons with her family. While her mother Marceline bakes the cakes, her elder sister Malaika juggles with the baking and decorating, with help from Sonica, who works as a graphic designer. Sonica says, "The tier form of designing is the most popular style for any wedding cake. The oldest way of enhancing the cake's complete looks is with edible sugar work of drapes, flowers, ribbons and a centre piece of the couple."
With the humongous crowd that one tries to accommodate at weddings, cakes start with three tiers and can go up to an eye-popping 10-tiers, too. "Also the flavour of the rich plum cake is substituted for a chocolate cake, vanilla cake or a red velvet cake among favourites," Sonica tells us. "A wedding cake is a big deal and one should book it at least a month in advance to enjoy the culinary delights of their favourite baker."
As with weddings, special requests are de rigueur and the decorator at The Cake Studio complies by matching the marzipan bride and groom's outfit colours. Another customer favourite is topping the wedding cake with real flowers like orchids and anthurium. "The elegant look of a pastel-coloured marzipan on a gooey chocolate cake made on a bed of orchids, or topped with anthurium is our bestseller," reveals Aditi.
Bride to-be Khushi Baldota says, "Tiered cakes are way too usual. I wish to have cupcakes as my wedding cake." And with all the icing and frosting showered on cakes in Mumbai's patisseries, one cannot blame her for diverging from the beaten path. Sonica says, "Cupcakes can be used, but they need to be arranged in a tier form. One can use the cupcakes as an element in the larger design of a cake, but the right essence of a wedding can only come through a cake."
With couples marrying throughout the year, a wedding cake really has no season. So chocolate, strawberry, or rum and raisin, Indian couples love the fact that they can cut the cake and eat it too.
'Diaries' is a series of stories on a single issue. The 'Shaadi Mubarak' Diaries aim to capture the essence of the wedding season in Mumbai. Look out for Part III.
(Pictures courtesy The Cake Studio and Crimsons)