Patrakar types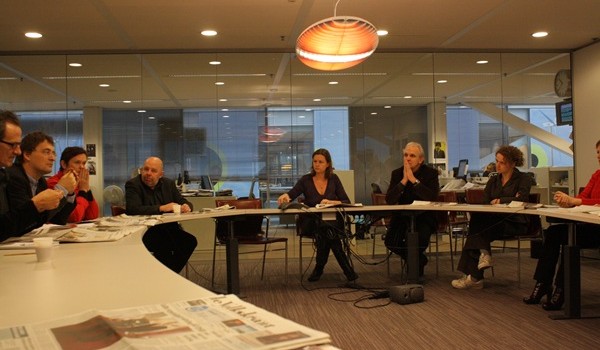 Published on December 14th, 2012
0
Editors from hell
Could sub-editors please be more careful while editing articles? And giving away e-mail IDs and phone numbers is not cool.
by Vrushali Lad | vrushali@themetrognome.in
Okay, first off, Mid Day. What were you thinking with this story of a boy arrested because he sent a photo cake to a girl he liked? Your story is eminently readable, but what was your sub-editor and page editor doing when they overlooked one important detail while checking the story: your paper printed the email ID the boy used to send the girl's picture to the cakewallahs.
What's worse, NDTV's website picked up your story, and printed it as is. No, not really as is, because NDTV changed the story's headline to the puzzling: 'In trouble for sending photo of cake to a girl'. A question to the NDTV sub-editor who changed the headline: Why did you change Mid Day's headline to read 'photo of cake' when you clearly meant 'photo cake'? (An aside here is that the story would be doubly interesting if the boy had actually sent just a photo of the cake and not the cake itself. If somebody did that to me, I sure as hell would go to the cops.)
A few days ago, a Mumbai daily carried the headline, 'Man shoots dead builder'. At first glance, it seemed like a case of extreme cruelty – I mean, why shoot a dead man? Another news item last month, about a man making prank calls to a woman at work, gave away the telephone number the calls were made from.
All of this makes the police's precaution of hiding an accused's face from public pretty redundant.
And it's not just newspapers, it's also television. A few days ago, IBN Lokmat did a charming special on Dev Anand's birth anniversary, and showed the late actor's songs and a few interviews of people who had worked with him. Each song was accompanied with the lyrics of that song being flashed across the screen. But when the song 'Ek but banaoonga…' from Asli Naqli started, IBN Lokmat's lyrics read, 'Ek putar banaoonga…'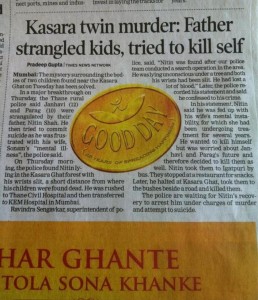 A rather funny and insensitive editing error occurred recently with The Times of India placing an ad for Good Day right in the centre of a grim news story of a man killing his own kids (see pic on left). Other regular offences that editors commit are publishing pictures of minors, whether accused of a crime or the victims of one, without blurring their faces or changing their names, and often choosing to blur the faces of women and not men.
And it's not just obvious elements like headlines and what goes in the main story that comprises editing goof-ups. Several times, reporters write an article with an obvious slant – for instance, political and crime stories, in which the writer's biases clearly reflect in the article he/she has written – but editors checking those copies let the slant remain. The result is stories such as the Bidushi Dash Barde case, in which most reports blamed the dead woman's husband without actually saying so, with phrases like, 'He called her only once in the morning despite knowing that she was ill', and 'He was calm and answered all questions without breaking down.'
When I still worked with newspapers full time, I had an almost daily run-in with the paper's editors. Once I waged a war against a particular sub-editor, who had not only mangled my story, but changed the headline I had given to the story with the sensitivity of a speeding truck. Imagine my chagrin when I read the papers the next morning and saw that the sub-editor had altered my headline 'Youth win award for propagating gender equality' to 'Youth win award for fighting molestation'.
I used to think sub-editors and editors above them are people with eyes like hawks, and the brain capacity of an encyclopedia. At least, that's how they used to be. Earlier 'deskies' were people who used to be reporters, and journalists who read constantly on a variety of subjects. This sharpened their intellect – an editor had to know more on a subject than a reporter – and gave their language an edge. And you couldn't become a deskie just by applying for an editor's job; you had to slog your way through the reporting ranks before being elevated to a desk position.
For the last five years or more, however, newspapers and channels are increasingly hiring desk personnel for their knowledge of English alone. Proofing of articles has now been reduced only to grammar and spell checks, which even the reporter himself can do on MS Word. And then there are new concepts such as Rewrite Desks that are operational in major newspapers – this Desk's job is to go batshit crazy on articles that have not been written well. In other places, we are told, there are three levels of editing to pass through before the article is considered final.
And despite all these precautions, we still end up with gems like 'Photo of cake'.
May be we should have a Corrective Measures Desk above the sub-editing desk…?
Vrushali Lad is a freelance journalist who has spent several years pitching story ideas to reluctant editors. Once, she even got hired while doing so.
 (Feature image courtesy ipjtraining.com. Picture used for representational purpose only)