Learn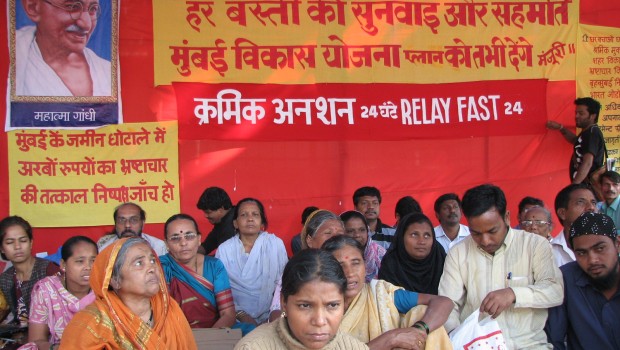 Published on January 7th, 2013
0
Relay fast continues at Azad Maidan
Ghar Bachao Ghar Banao Andolan continues despite no response from Government. Several slums and activists are united in the cause.
by National Alliance of People's Movements
The Ghar Bachao Ghar Banao Andolan agitation entered its seventh day yesterday, with 30 representatives from various slums of Mumbai, who had been fasting for the last 24 hours, breaking their fast and the next 30 representatives beginning their fast in their place. People who observed the fast only drank water, but spoke passionately about the need to struggle against injustices happening to them in their bastis.
Ajay Palande, from Jogeshwari Indira Nagar, while breaking his fast, shouted the slogan "Bhooke pyaase ladenge, Andolan chalayenge." Added Kantabehen from Chandiwali, "We are trapped in the cruel web of SRA-builders-duplicate notices-lack of basic amenities-fake allotments and have been fighting for the last 12 years. Now we won't go anywhere, they (the Government) have to come to hear us."
Two days ago, Rashi Azmi from the All India Milli Council, Anita Vyas from Ambujwadi, Sabrunnisa Saha from Adarsh Nagar, Lakhan Mandal from Mandala, Gauri from Malwani 8, Shamim Ansari, and 24 others from different slums and middle class localities were fasting for their land rights and right to dignified housing.
While there as been no response from the Government as yet, people are determined to continue their agitation. Letters of appeal are being drafted by the people and the supporters to take immediate decisions on the demands of the Andolan. Support from various organisations, senior activists and students is coming from all over the country, which has intensified the energy and increased the enthusiasm of Andolankaris here at Azad Maidan.
Surekha Dalvi, Indavi Tulpade, Rambhau Wadu from Adivasi Sangathan and Shoshit Jan Andolan, Byaneshwar Shedge and Gyanoba Bhikule from Mosekhore Bachao Jan Andolan (which is fighting Lavasa), and many others came to show their solidarity with the Andolan.
Read the story of Susheela, who has faced demolition of her home several times and who is part of this Andolan, here. 
(Picture courtesy unitedblackuntouchablesworldwide.blogspot.com)