Learn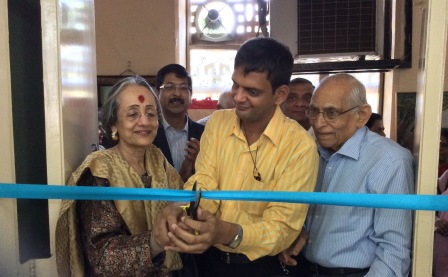 Published on September 8th, 2015
0
Mumbai gets country's first digital training centre for the disabled
Helen Keller Institute and NASSCOM join hands for country's first NDLM centre to impart digital literacy training to the disabled.
by The Editors | editor@themetrognome.in
The Helen Keller Institute for Deaf and Deaf-blind (HKIDB) and NASSCOM Foundation yesterday jointly opened India's first ever NDLM centre dedicated to training Persons with Disabilities in Digital Literacy. This will also be the first NDLM centre based out of Mumbai.
HKIDB will facilitate the training infrastructure and the trainers at the centre. Special care has been taken to make sure that it remains accessible to Persons with Disabilities. The computers inside the centre have been loaded with the latest accessibility hardware and software like Job Access with Speech (JAWS), speakers, mics, power braillers – braille keyboards and braille embosser (braille printer) etc. The course material has been fully tested for W3C level 2 accessibility level.
The centre will have beneficiaries trained on all digital devices, specifically, computers and mobile phones. Once trained, the beneficiaries will be able to send emails, connect on social media, buy from e-commerce websites, and even use the Internet to avail various Government services such as registering for Aadhar cards, ration cards, PAN cards, and others.
On the occasion, Yogesh Desai, CEO, HKIDB said, "Our aim is to develop the Deaf & Deaf-blind into self-sufficient human beings and integrate them into the regular stream of society to perform to the best of their abilities. The NDLM centre will address digital literacy needs of persons with other disabilities also. WE believe that no one is incapable of being taught and no one can do without education."
Shrikant Sinha, CEO, NASSCOM Foundation said, "Inclusion of Persons with Disabilities has been one of the top priorities for NASSCOM Foundation. We are attempting to close the digital divide by helping Persons with Disability to harness the power of computers and mobiles and develop necessary skills to start using them with confidence."