Tech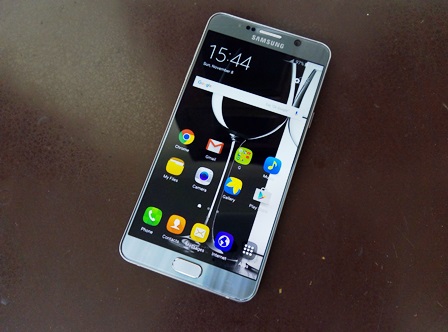 Published on November 11th, 2015
0
Review: Samsung Galaxy Note5
This phone mostly performs well but stutters on a few basic parameters. It's highly recommended for its display and camera.
by Manik Kakra | @Manik_K on Twitter
The Note series is perhaps the most popular line-up of smartphones that Samsung has produced in terms of dominance, incorporating a larger screen, a stylus, and various design parameters. Now, as almost all phone manufacturers have a large phone in their hand, what does Samsung have in store for us that others don't?
The looks. Samsung changed its design philosophy for its high-end smartphones late last year, and this year it decided to continue on that path with the Galaxy S6, S6 edge and S6 Edge+, and now with the Note5. If you remember the Note 4, it had a plastic textured back that was removable, but the Note5 sports a shiny metallic and glass back that tapers on both sides, giving the phone a pretty premium feel, but also making it a lot slippery than its predecessor. The back is also reflective and catches fingerprints and smudges quickly.
The protruding camera at the back is joined by LED flash, heart rate monitor and the Samsung logo. The phone's front resembles a typical Samsung Android phone with its familiar oval-shaped Home button (doubles up as the fingerprint scanner) surrounded by Recent Apps List and Back keys that light up just the right amount you would want; front-facing camera, visible sensors, ear-grille, LED notification right above the 5.7-inch Super AMOLED panel.
Things become even more interesting at the bottom: 3.5mm headset jack, microUSB port, loudspeaker, primary mic, and the S Pen placed neatly into its place. The top gets nano SIM slot and secondary mic.
Screen. The Note5, just like the Note 4, sports a 5.7-inch quad HD (2560×1440) Super AMOLED, but it's slightly better this time, in my opinion. Samsung has been doing great work when it comes to phone screens and it shows with the Note5. This screen has deep Black colours you normally associate with AMOLEDs, as well as rich and vivid colours fairly more accurate than the Note 4's screen. High resolution videos and images look great and the screen is much usable under sunlight. The Note5's screen is undoubtedly among the best smartphone screens we have seen and that isn't just because of its resolution, but also about sharpness, visibility, dimness for using in dark conditions.
Battery. The phone is equipped with a 3,000 mAh battery unit, which is a little smaller than the Note 4's, but I found its battery life to be satisfactory. More often than not, with moderate usage and screen brightness at 20% level, the phone lasted me almost a full day (four hours of screen on time). But with a lot of HD videos and games, prepare to put it on charge within 15 hours. What makes things better is the quick charging feature that means getting 0 to full charge in a little about 70 minutes. The device also supports wireless charging for those that have a Qi standard wireless charging pad.
Sound. The loudspeaker at the bottom is quite loud and clear, but due to its placement you may often put your hand over it while watching videos or games in landscape mode. Otherwise, it does a really good job of handling sound and not distorting most of the times. Connectivity-wise, I didn't find much of a problem with WiFi, Bluetooth, 3G, though I did find network reception to be a little on the downside when used underground compared to other phones (apparently improved with the last firmware update).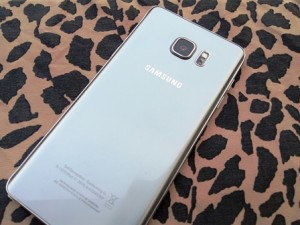 Camera. The Galaxy Note5 features a 16 MP (f/1.9) camera (OIS) with an LED flash. Here are a few sample images.
This camera can take really nice and detailed shots in almost any situation. Images look sharp even in low-light. Its camera app has a lot of modes including manual mode to give you a host of controls while taking a shot. It even has a Live YouTube broadcast feature where you can directly broadcast something to YouTube using your Note5 (similar to what we saw on the Xperia Z3). You can also choose to get RAW (DNG) images for extensive editing. I found Double-tapping the Home button for opening the camera app useful and mostly lag-free. The front-facing 5 MP (f/1.9) camera is more than capable to handle your selfies and video calls.
Software and performance. Under the hood, the Note5 boasts Samsung's own Exynos 7420 SoC (2.1 GHz octa-core processor, Mali-T760 GPU) along with 4 GB of RAM. There is 24 GB of internal storage available (32 Gb model) and you cannot expand it as there is no microSD card slot for the first time on a Note device. Every buyer gets free 100 GB of storage on OneDrive, though. Like the Galaxy S6, there is UFS 2.0 for internal flash storage, meaning faster read and write speeds as well as improved OS performance. The phone runs on Android 5.1.1 with TouchWiz UI on top.
For every day performance, I had no issues with playing games or watching high resolution videos. A slight issue is with animations and switching between apps not being very smooth. Mind you, this is a top-end device, so your expectations are just that little more than those priced significantly below. While multiple tabs and pre-loaded apps work mostly as you like, there's often stuttering in general UI that seems to be TouchWiz's fault. It's quite disappointing that a device this powerful inside has this minor issue that, while not everybody may notice, some who care about their phone's regular performance, especially when paying this much, will feel their overall experience being a little low on the scale.
The S Pen is a lot more natural to use now and the added feature where you can pull out S Pen and straight away write something on the screen without having to unlock the screen is a useful addition.
The Note5 has two sides to it: hardware – top of the line hardware inside, fine, premium design and build, and better S Pen, fantastic camera and top-notch screen; software – can handle games and video apps fine, but stutters when switching between apps or less-than fluid animation in a few apps. For those looking to get a phablet, and don't care much about the aesthetic and build may look at the Note 4, but those who are okay with no storage expansion and want a no-compromise display and camera, should consider this Note5 provided you have Rs. 52,000 to spend.
(Pictures courtesy Manik Kakra)