Listen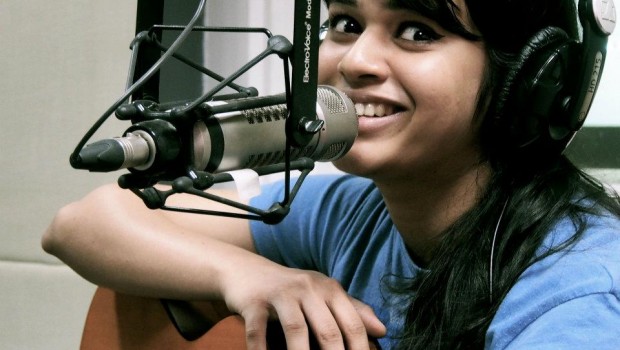 Published on January 29th, 2013
1
'I wish all films wouldn't need item songs to sell'
Shalmali Kholgade discusses winning the Filmfare Award for her song 'Pareshaan', and what annoys her about Bollywood, among other things.
by Vrushali Lad | vrushali@themetrognome.in
Shalmali Kholgade sang the wonderful 'Pareshaan' from Ishaqzaade last year. Her heady voice, combined with the song's beautiful lyrics, took the composition straight to the nominations lists of several film awards this year, and culminated in a Filmfare trophy for the 23-year-old. And 'Pareshaan' was her debut song in Bollywood!
In an interview with The Metrognome, Shalmali speaks about her win, what her pet peeve about the Hindi film industry is, why she doesn't drink milk a day before a song recording, how she began singing, and why she looks for that 'one' moment of total harmony when she sings.
First of all, congratulations on winning the Filmfare award for 'Pareshaan'. What was it like to hear your name announced as the winner?
When my category was announced, my heart was racing. But I have this cool ability to mask everything happening inside. But when my name was announced, my heart stopped beating for a second – or so I thought. I remember trying to look calm and composed, but I can't say if I did that well enough. I walked up to the stage, and everything after that goes blank in my head. All I can say right now is that it must've been too intensely powerful a feeling to account for in retrospect.
You looked gorgeous on awards night. What did it feel like, getting all dressed up for the awards?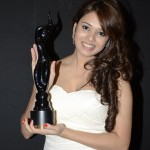 Thank you very much. All credit goes to the immensely creative, innovative and gorgeous Sonaakshi Raaj who was my stylist and designer for the Filmfare Awards. Feel free to add all the superlatives you can think of to Sonaakshi Raaj – she is extremely deserving of them all. The white jumpsuit that she designed for me hit that balance between red carpet 'elegant' and a musician 'casual' perfectly. Getting dressed up for the awards was like a scene from Cinderella! I enjoyed it thoroughly.
Can you describe the creative process that went into creating 'Pareshaan'?
The selection process for 'Pareshaan' included me singing the chorus of the song twice and then Amit Trivedi (Ishaqzaade's music director) saying, "Are you free tomorrow to record the song?" And just like that I was recording 'Pareshaan' the next day. We recorded over two days, as there were lyrical changes. Habib Faisal and Kausar Munir spent a lot of time explaining every word and every line of the song to me. All three of them – Amit Trivedi, Kausar Munir and Habib Faisal – were extremely supportive of me and showed a lot of belief in me. That was a huge plus. The pronunciation of the words was the other thing that needed attention on my part. I wasn't used to singing Urdu words. But Habib sir and Kausar ma'am got it out of me.
Who are your favourite music composers? And who is a bygone era composer you would have loved to work with?
My favorite music composers are Nitin Sawhney, AR Rehman, Amit Trivedi and Vishal Bharadwaj. I would've loved to work with OP Nayyar.
If you hadn't sung 'Pareshaan', which singer would have done as much justice to the song as you did?
It would have to be Sunidhi Chauhan.
Tell us about your childhood. How did you take up music?
My mother (singer Uma Kholgade) taught Indian classical music at home. She is the reason I sing at all. Till my mother was eight months pregnant with me, she went for music lessons at her teacher, Shruti Sadolikar's. She believes that it affected my musical leaning in some way. My mother made it compulsory for me to sit for music class twice a week for an hour each, and though I reluctantly sat for it, I owe so much to those classes.
My brother, on the other hand, who is eight years older than me, listened mostly to English rock and pop bands like Queen, Aerosmith, Michael Jackson, Phil Collins and Dave Matthews Band. His music, for some reason, was more inviting for me. I listened as he played his guitar and sang sometimes. I picked up the guitar watching him play. He has been my encyclopedia for English music.
How has the support from home impacted your career?
My father is a pharmaceutical consultant by profession, but is a lover of the Arts. He writes plays, short stories and poetry in Marathi and English in his free time. My mother, brother and I are always the proud first listeners of his writings. He also sings with the kind of confidence I have never seen, even though he isn't trained in singing. My mother has taught Indian classical music at home till I was 16 years old. She is a fantastic teacher, who never taught music for the sake of making money. Her students love her and beg her to start taking classes again even today. I am so grateful to have parents who are so incredibly talented, supportive and encouraging. There's no way I would've been here today if it weren't for my parents.
Overall, what has been your musical journey been like? Have you sung for regional cinema as well?
My journey has been an utter joyride, with some incredibly diverse experiences of being able to listen to and sing with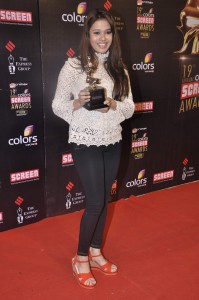 musicians from all over the world. (She is a vocalist with Mikey Mcleary's popular act The Bar Tender and has performed as a soloist with a Latvian troupe in a cabaret named 'Bombaloo' which toured Moscow, Russia and Yerevan, Armenia).
I have had the chance to sing in regional cinema and that is something I thoroughly enjoy doing. I have a strong affinity for languages, diction and the tonal quality of every language. My first Tamil song 'Raja Raja' with music director GV Prakash released a month ago. My first Marathi song 'Jag Saare Badale' also released this month. I have recorded a Bengali track with the great Indradip Dasgupta, and also a Telegu song with Sachin Jigar. Both these songs release by the middle of this year.
What has been the most special moment in your musical journey so far?
When I was in college, I had a life-changing experience that convinced me that music was what I wanted to pursue. It was the final round of Western solo singing at St Xavier's Malhar. As I sang 'Desperado' by the Eagles, with just a guitar accompaniment, I held the last note of the song till I ran out of breath. I felt like I wanted to hold on to that moment for as long as I could, because I knew it wouldn't come again for a long time. That is the reason I am pursuing music today. I want to find that moment of complete harmony of voice, accompaniment and calm. It is indescribable.
What is the one thing you don't like about the Hindi film industry? A lot of artistes complain about the lack of respect for time, for instance. What is your pet peeve?
Time would be number one on my list, too. But when it comes to music, there's too much run-of-the-mill stuff, with little experimentation. I wish that would change. I wish all films wouldn't need item songs to sell. I wish women in films would have better roles than just ordinary lovers to play. I agree that it is changing with films like Kahaani and Heroine. But my issue is with a majority of films having female actors that are used as marketing tools.
There are so many young singers today, each with their own USP. How is it possible to survive in this competition and bring your best to a performance every time?
I personally don't think of anyone as competition. This does not mean I am unaware of all the talent around me. But I see it as people to learn from and skills to add to my kitty. It is all inspirational in one way or the other.
How do you train your voice on a daily basis?
I start my day with just humming any tunes. Slowly as my voice warms up, I do scales on lip rolls, humming, and plenty of other warm up exercises. I sing along with songs that play on my computer all day. I never count the number of hours I sing. I sing for as long as I feel tired singing. If I have a recording or a show on a particular day, I stop drinking milk a day before. That's the only precaution I take. I am of the opinion that a positive mind always helps deliver well. When I think I am not singing to my full potential, I just sit over it and polish the song, a melody, a run up till it comes out effortlessly. This takes days, sometimes months.
Which projects are you working on currently?
I am doing a lot of shows, especially so in colleges all over India and that is something I am enjoying a lot. The youth is so full of life and love that it is always a pleasure singing to them. One of my songs from the film Mere Dad Ki Maruti will release this week. A handful more releases are due in the next couple of months and I look forward to them.
How has life changed for you post the Filmfare Award?
Winning the Filmfare award and the shower of wishes and expectations that followed have changed quite a lot in my life suddenly. From wanting to pursue music, to singing 'Pareshaan', to becoming a playback singer, to winning a Filmfare Award, all of it has in quick succession. I feel more responsible and I want to live up to the expectations of people, and more, over the expectations I have from myself.
What is a tip you would give aspiring playback singers?
Everyone is unique, with a different voice quality, a different range and a different personality. Use it to your advantage. Compete only with yourself. If you stop looking inwards and start indulging too much in the lives and feats of your contemporaries, you'll lose yourself.
That is all that's important. All the technicalities of singing in a studio and live can be learnt only through experience. I am also learning. I just keep looking forward!
(Pictures courtesy Shalmali Kholgade and karamnook.com)