Places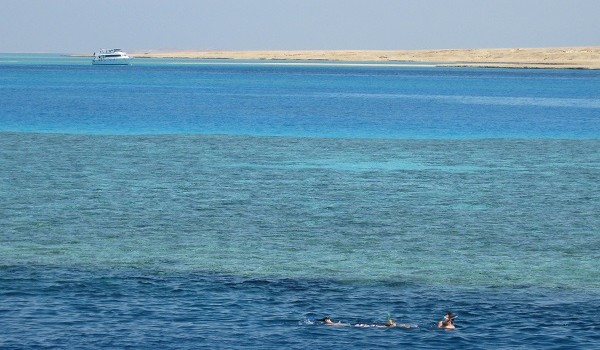 Published on July 16th, 2014
0
Snorkelling in the middle of nowhere
You wouldn't normally associate underwater sports with Egypt, but Sharm-el-Sheikh city is full of surprises – and it's a work-in-progress.
by Sujata Garimella
A visit to Egypt is on the wish list of almost every person who likes travelling. Who is not fascinated by the Pyramids and the Sphinx which have firmly stayed in the Seven Wonders of the World for decades now? Then of course there are the famed temples, especially the ones at Abu Simbal (the ones with those HUGE statues) and the one at Luxor dedicated to the Sun God, Ra.
In fact the Luxor temple marks the first foray by a Pharaoh into monotheism. Like most ancient civilisations, Egypt, in the olden days was polytheist with a large number of Gods and Goddesses that they venerated. (Now, of course, it is a monotheistic Islamic country.) Along with all this history and culture, the Nile also found a place of honour for being the longest river in the world. Amidst the history, culture and geographical excitement (besides the Nile, there is also the Sahar desert) that Egypt offered there seemed little place for anything more. But the Egyptians surprised me with Sharm-el-Sheikh.
How it changed complexion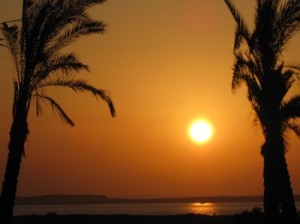 Sharm-el-Sheikh until recently was not a part of any Egyptian travellers' odyssey through the country. Nestled by the Sinai range, it was a in a tension-filled area bordering Israel. Sinai has towering religious significance – one of the hills in this range is where Moses received the 10 Commandments. In fact, a church close to the foothills of the mountain houses a fire which is supposed to be the fire from the Burning Bush from which God spoke to Moses. The Old Testament is common to Judaism (Jews), Islam and Christianity, so the Sinai and the Burning Bush are important to three major religions of the world. For a while, Israel even captured Sinai and Sharm-el-Sheikh. Sinai was restored to Egypt in 1982 and that is when Sharm-el-Sheikh started getting developed.
Initially it became a popular venue for Peace Conferences. With Sinai on one side and the gorgeous Red Sea on the other, it soon began attracting a lot of visitors. Today, it has an endless collection of huge resorts of different levels of plushness. As far as I could see, the entire strip on which our resort was, had only massive resorts lined one beside another.
Snorkelling is a huge attraction
Snorkelling in the Red Sea is the biggest attraction of Sharm-el-Sheikh. I went for the whole day trip to the Red Sea. Each group was first picked up from their hotels and taken to a place where we could either rent or buy snorkelling equipment. Then onward to the Red Sea. Embarking on a boat, our travelling quarters for the day, we set sail into the bluest waters I have ever seen. The Red Sea is supposed to appear reddish because of certain algae that grow in it, but the waters were mesmerisingly blue.
There must have been about 20 people onboard, almost all of them European. Three engaging Egyptian boys were our hosts-cum-guides-cum-leaders-cum-life guards. First there was a quick lesson on the types of fish that we would see, followed by underwater signals for appreciation, distress, and help, and we were set. Only one person in the group could speak a European language as well as English – so she had to volunteer as the translator.
Stopping at various spot,s those of the group who wanted to get into the water did and those who didn't want to or didn't know swimming (there were those, too) stayed put on the boat enjoying a relaxing day. Even from the top of the boat you could see fish swimming in the sea – the water is that clear. Snacks and lunch are a part of the trip package.
There are no locals here!
Back on mainland, on our way to our resort, I asked the driver whether we could go to a local market. He seemed a little flummoxed. "Where the local people go for shopping," I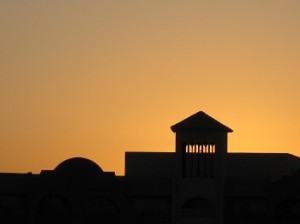 tried. "No local people," came the surprising reply. Huh? "People only coming from different cities. No one staying here," he explained. "Then what was there here before the resorts were made?" "Nothing. Desert. Small village. Some tents." Wow!
I have read about cities being built or developed in the past but being born into a world with established cities I couldn't quite fathom the concept. So when I hear about Las Vegas being built or Utah being established by the Mormons, there is an intellectual acknowledgement but no real understanding of the concept. Now here I was, travelling in a city that was a work in progress.
I continued the exploratory conversation with a young man in the customer relations department of our resort. He said that there we no locals in Sharm-el-Sheikh (yet). The Egyptians who were working in the resorts and the Red Sea tour operators all belonged to other towns and cities of Egypt. They were provided quarters by their employers (mostly in the premises of the resort itself). Food was also taken care of by the employers. Even doctors were appointed by the employers and they too stayed in the same premises.
So this is how a city gets built. Soon the folks will start getting their families along and resettle in what is still the middle of nowhere. Once there are people, traders will follow to set up markets of groceries, clothes, home essentials etc. Skills and services will then be required – plumbing, electricians, doctors et al, and they too will be drawn in. With families staying there, schools and other educational facilities will become essential services and find place. And within a decade or two, no one will ever know that this is a planned city that was only built to attract tourists.
Flying out of Sharm-el-Sheikh, I looked long at the twinkling city that consisted entirely of hugely lit-up resorts and marvelled at this 'work in progress'.
(Pictures courtesy Sujata Garimella)