Places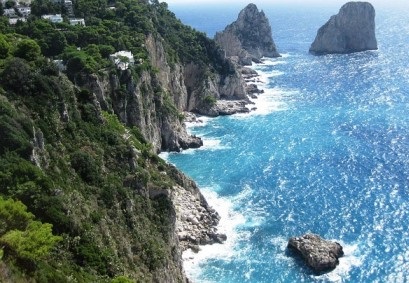 Published on August 26th, 2015
0
Amalfi Coast: A little piece of heaven
Mumbai girl Beverley Lewis visits the Italian site for the rich and famous on a budget. This is her story.
If you're tired of dragging your feet around museums and ancient ruins in Italy, it's time to take and breather and head down to the Amalfi Coast for a bit of R&R. The Amalfi Coast, with its cobalt blue waters and green foliage, is perhaps one of the most beautiful places on earth. The Amalfi coast, along with the surrounding coastal towns of Sorrento, Ravello, Positano and Capri, comes alive in the summer with the buzz of vacationers, from all over the world, most of who look like they've stepped off the runways of Milan.
So how do you get to the Amalfi Coast at an affordable price? Well, the key is to book hotels and flights in advance. If you are a budget traveller, then the best time to visit the Amalfi Coast and its surrounding towns is in the month of May. Chances are air fares and hotels will be cheaper, and it will also be less crowded.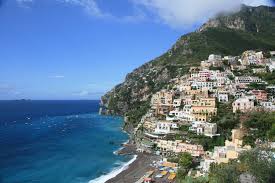 My base was Sorrento, which is much cheaper compared to other towns along with coast. Also, due to its convenient location, I was able to take day trips to nearby Capri, and Ana Capri, using a local guided tour operator. Lined with designer stores on both sides, the stunning island of Capri is best left to the super-rich. The rest of us will just have to be satisfied with the breath taking views and delicious local Caprese cuisine along with a glass (depending on how many sorrows you wish to drown) or bottle of wine made from the delicious Falanghina grape.
The next costal town I visited was the quaint Positano, which has pastel-coloured buildings and long-winding, steep narrow lanes. Positano is an affordable town, where a budget traveller can afford to stay in a fairly decent hotel and take full-advantage of the local fare. There are numerous cafés, which offer freshly made pastries and piping hot cappuccinos to the weary traveller. Positano is also known for its strappy leather handmade sandals, which are reasonably priced and make great souvenirs.
Another day trip that I took was to the town of Ravello, which is literally situated on a mountain and overlooks the Bay of Salerno. This sleepy little town is well-known for its stunning gardens and sea views. It also has a number of family run restaurants, which offer a variety of homemade pastas. There is an array of family-run stores that offer everything from olives and local wines to home-made jams.
And you cannot leave without enjoying the coast's busiest town, Amalfi. This glorious town is located between the sea and the mountains and has a beautiful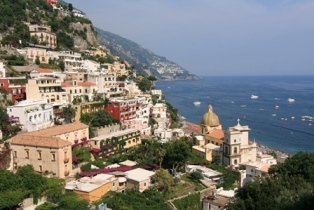 Arab-Norman cathedral. Also, if you enjoy seafood, then this is the town for you. Most restaurants in this former maritime Republic offer fishy antipasti and mixed seafood and tomato pasta dishes.
You don't have to break the bank to enjoy this 43-mile stretch of beautiful coastal towns, you simply need to do some research and keep your eyes and ears open for good deals. Also, you may need to dust out your gladrags and plaster on a pair of over-sized shades, in case you need to hobnob with a millionaire or rub shoulders with a celebrity.  After all, it is the playground of the rich and famous.
(Pictures courtesy Beverley Lewis)