Deal with it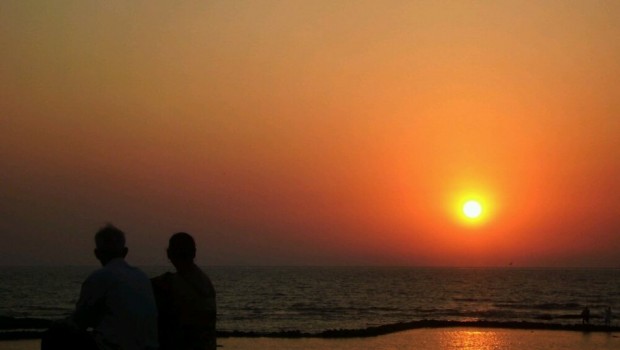 Published on January 28th, 2013
0
Only 'patrolling' now for couples' safety on seashores
But cops insist that the move is for the couples' safety and not to infringe on their privacy. Okay, then.
by The Editors | editor@themetrognome.in
If you're looking for some 'quiet time' with your partner at one of the city's beaches, don't look for a spot away from the crowd. You might as well mill about with others and go home early, because couples sitting at isolated spots are soon going to have the cops breathing down their necks and shattering any privacy they might have hoped to get.
Recently, Thane was rocked by reports of how policemen were rounding up couples out of doors after dark or meeting in relatively isolated places, before taking them to the police station and calling their parents. Just when the outrage over those incidents was dying down, the Mumbai Police announced its plan to remove couples sitting alone at the city's beaches.
Following protests against this move, however, Mumbai Police Commissioner Dr Satyapal Singh changed the plan from summarily ejecting, to merely increasing vigilance on couples spending time alone on seashores or isolated inlets.
However, they still insist that this is not moral policing but a move to ensure safety for couples. Dr Singh has still not elaborated on what the police will do in case they see people sitting far away into the sea – if the couples are not asked to leave, will the patrolling cops wait and keep vigil till the couples leave?
"The seashores of Girgaon, Worli, Marine Drive, Bandra Bandstand and Juhu attract a lot of people. Couples generally visit these places and sit on the rocks when the sea is at low tide, for privacy," a press release from the police says. "Such couples sitting in isolation may encourage criminals to target them and assault them for money or valuables. There is also the fear that girls may be sexually assaulted in such cases."
However, it seems that though the recent Delhi gang rape case may have spurred the Mumbai Police into providing security to the citizenry, the cops seem more worried about the after-effects of such an incident occurring in Mumbai and causing law and order issues. "In view of the Delhi gang rape case, if such an incident were to happen in Mumbai, the citizens of Mumbai would feel insecure and the resulting protest demonstrations would cause a law and order situation in the city. To prevent this, the numbers of policemen keeping vigil along the seashores of Girgaon, Worli, Marine Drive, Bandra Bandstand and Juhu are being increased," the cops say.
Like we said, don't move away from the crowds unless you want some quiet time with the cops.
Is this move aimed at policing criminals or is it designed to keep a watch over couples? Tell us what you think.
(Picture courtesy tasveerz.wordpress.com)